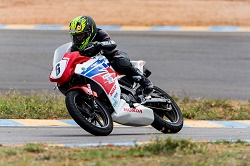 Coimbatore: Puja Dabhi of Pune romped home to an impressive victory as the Round One of the Honda All Ladies Race at Honda One Make Race got underway at the Kari Motor Speedway, here on Saturday.
Pooja Dhabi, who had started the race from the pole position, clocked an overall timing of 08:03:969 minutes over the 5 laps, to take the top-honours. However, it was Shruthi N from Chennai, who clocked the fastest lap timing of the race at just 1:23:691 minutes. She finished the race in the second-spot with an overall time 08:04:529 minutes. Her compatriot from Chennai, A Ryehane finished third at 08:10:097 minutes.

Honda All Ladies Race was undoubtedly the biggest draw on Saturday as 10 women riders competed on the race-prepped CBR 150R motorcycles in the First Round of the Honda exclusive women racing event. The woman riders have been trained at the Honda Ten10 Racing Academy.

Congratulating the winners, Prabhu Nagaraj, Vice President, Customer Service, HMSI, said, "The rapid strides the women riders has taken in such a short time, validates our decision to conduct the All Ladies Race for the entire season. My hearties congratulations to Pooja, Shruthi, Ryehana and all the ladies who took to the grid today. We have high expectations from them for the future as well."
Stage set for action-filled Sunday
The city of Coimbatore, which got its first taste of action on Saturday, is now bracing for an action-filled Sunday as action now shifts to CBR 150R Novice category and CBR 250R Open category.

Both the CBR 250R and the CBR 150R categories, continue to emerge as a nursery for young talent to showcase their potential. For this year, Honda has unveiled new race-prepped racing versions of CBR 250R and CBR 150R, developed with technical know-how with support of Honda R&D India. The new racing version of CBR 250R gets an upgraded Honda racing kit, including wiring harness with remapping option, advanced racing body cowl kit & equipped with endurance exhaust. The new CBR 150R gets a reprogrammed ECU.

Honda has received over 53 entries from as far as Mizoram, Ahmedabad, Ranchi, Aizwal, Jalgaon, Pune, Hyderabad, Bangalore, Trichy and Aoroville. Like every year, the CBR 250R category is a Team Championship and 16 CBR 250R performance bikes are leased out to 4 teams registered at FMSCI. Besides defending champions - Ten 10 Racing, Prolap Racing, United Tech Torque and AMB Tuning will compete for the top-honours.

The CBR 150R category will be an open category where riders, who have undergone extensive racing training from Honda Ten10 Racing Academy or any other training school recognized by MMSC (Madras Motor Sports Club) will vie for the top-spot. Furthermore, 10 Honda Racing motorcycles will also be seen in the National Championship as 6 motorcycles are leased to Ten10 Racing team and 4 motorcycles to Pro Laps Team.