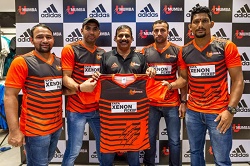 Mumbai: It's all about embracing the new as U Mumba dust off the memories of Season 3 and gear up for a fresh new season of Star Sports Pro Kabaddi. The opening leg of Season 4 kicks off at their home ground with matches against Jaipur Pink Panthers and Puneri Paltan on the 25th and 26th of June respectively.
The mood in the camp is extremely positive at the moment as coach E Bhaskaran along with his assistant coach Ravi Shetty have rebuilt a squad that was known for its consistent performances across all seasons. With the inclusion of raiders like Gurvinder Singh and Surender Singh and defenders like Vikas Kale and Sunil, the U Mumba outfit that will turn up on Saturday for their opening game promises to display that same level of consistency as displayed before. Coach Bhaskaran is confident that since joining the team, these players are now U Mumba players and possess the skill and tenacity to compete as one strong unit. "The senior players like Anup and Rakesh have been extremely brotherly towards the new players which has made them feel part of a family - the U Mumba family. This camaraderie will definitely be seen when the starting seven take the mat on Saturday." Continues Bhaskaran sir.

Facing Jaipur Pink Panthers and Puneri Paltan on their home turf will throw up familiar challenges for the Mumbai franchise with former U Mumba star raider Shabeer Bapu part of the Jaipur outfit while Surender, a former Puneri Paltan player, now playing for U Mumba.
Coach Bhaskaran said that their strategy will focus on beating the starting seven of each game, not specifically pointing out individuals who could possibly influence the game. "Ultimately, we have to base our strategy on the starting seven that Puneri Paltan choose and even though we need to look at individuals, we need to consider opponents as a whole team."
Playing at home is always considered an advantage and with U Mumba regarded as 'lions' in their own backyard, it will be interesting to see how the Season 3 finalists fare with what will essentially be two home legs in Season 4. The coach is confident that their vociferous fan support will motivate the players to begin the season with two solid wins.
When describing the depth of the squad, the coach conceded that while it was different from the previous season, he is satisfied with the balance of the squad because there are multiple players for each position. "All the players of our squad are extremely talented and skilled and we now have a problem on our hands for selecting the starting seven. But the players know that the best starting seven will be selected for every match depending on the type of opponent that we are facing." Concluded Bhaskaran sir.
Ultimately the true test of character will be on Saturday, 25th of June as U Mumba take on Jaipur Pink Panthers.