A shy, diminutive 16-year-old cricketer with curly locks made his Test debut for India in Karachi on Nov 15, 1989.
It was a momentous year in world history with communist states fast withering away in Eastern Europe. But cricket experts had little doubt that the hugely talented Sachin Tendulkar's arrival in the big ticket league was an equally defining moment for the game.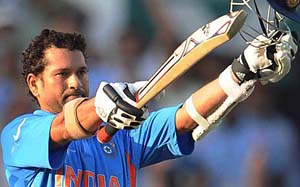 Twenty-two years and 122 days later, the 5' 5'' genius has almost all batting records under his belt. With 15,470 runs in 188 Test matches and 18,374 in 462 ODIs, Tendulkar holds the record for the maximum number of appearances and being the highest run-getter and century maker in both forms. He has turned out for India in six World Cups at a stretch, playing a big role in the title win in 2011 and the runners-up finish in 2003.
To cap it all, the Mumbaikar Friday became the first man in 135 years of international cricket to complete a century of hundreds - 51 in Tests and 49 in ODIs. In fact, the epoch-making three figure knock came against Bangladesh in Dhaka's Mirpur a day after the 135th anniversary of the first ever Test match featuring England and Australia.
In a revelation that even the "god of cricket" has his human frailties, it took Tendulkar 370 days to get over an agonising century-less period after the 99th international hundred he got March 12 facing South Africa in Nagpur during the World Cup. It was, however, shorter than the 510 days he took to get to his second Test hundred after scoring his maiden three-figure knock, a match saving one, against England at Old Trafford August 14, 1990.
"It's been a tough phase for me… I was luckless. I was not thinking about the milestone, the media started all this, where ever I went, the restaurant, room service, everyone was talking about the 100th hundred. Nobody talked about my 99 hundreds," a smiling Tendulkar said after his knock at Mirpur, the monkey off his back.
Tendulkar now lies seventh in the list of players with the longest careers in international (considering both Tests and One Day Internationals) cricket, and at 38 years and 327 days, he is the oldest Indian still playing the international variety of the game.
The historic milestone of a century of centuries was reached at Sher-e-Bangla National Cricket Stadium in the ODI as Tendulkar took a single by clipping Shakib al Hassan to square leg, triggering celebrations not only in his city Mumbai, but also across India and other parts of the cricket world left mesmerised by the stylish batsman all these years with his picture-perfect straight drives, power-packed hoikes over the square and a large battery of other elegant cricketing strokes.
Another hallmark of Tendulkar's batting has been his fine ability to improvise and unleash unorthodox shots like the paddle sweep, which have helped him to churn out good scores consistently despite wear and tear of the muscles with age and constant pressure cooker situations that mark international cricket.
"It is hard to imagine any player in the history of the game who combines classical technique with raw aggression like the little champion does," cricketing legend Sunll Gavaskar once said of Tendulkar.
Having carried the aspirations of millions of fans for over two decades, defying a number of injuries -- including a career threatening tennis elbow -- Tendulkar has emerged as one of the greatest icons the country has produced in all spheres of life.
Fans from Kashmir to Kanyakumari worship him, sponsors and endorsers stake their fortune on him confident of reaping rich dividends, and budding players know, who to look up to as role model.
On his part, Tendulkar has always steered clear of controversies on and off the field and played the gentleman's game in its true spirit.
In Test cricket, sublime centuries have rained from his bat after he broke the jinx between his first and second hundred by reaching the landmark opposite Australia at Sydney on Jan 6, 1992.
Again in ODIs, he played 77 matches and almost five years without getting his maiden hundred. But experts never lost faith in him. Gavaskar commented that once he gets his first one, there will be no stopping him. Finally the big day that came Sept 9,1994, against Australia in Colombo.
Years later, the legendary Don Bradman - considered the greatest batsman of all times - asked his wife to take a look at the Indian as he felt Tendulkar played like him. It was Tendulkar's technique, compactness, and shot production that endeared him most to the Aussie, according to Roland Perry, who authored the book "Don's Best".
An abiding image of Tendulkar would be a hundred he scored in the 1999 in the World Cup match at Bristol. Ramesh Tendulkar, a novelist and professor, who had deeply inculcated in his son the virtues of modesty and humility, died when India were in the midst of the Cup campaign.
Tendulkar flew home to attend to his father's last rites, and returned to the tournament, beating the Kenyan bowlers into pulp scoring 140 of 101 balls, and dedicated his innings to his father. On completing the hundred, Tendulkar looked at the sky, praying for his father, and has done likewise after reaching every milestone of his glittering career since then.
Mentored in his early cricketing days by his elder brother Ajit, Tendulkar later honed his skills under celebrated coach Ramakant Achrekar.
The talent in him was visible in Tendulkar's school days, and he partnered friend Vinod Kambli to an unbroken 664-run stand in a Lord Harris Shield international school game in 1988, making the cricketing circles to sit up and take notice.
The rest has been a fairy tale, and Tendulkar seem to be going on, forever. (IANS)

By Sirshendu Panth