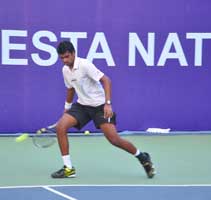 New Delhi: Arjun Kadhe and top seed Mohit Mayur Jayaprakash remained on course for a title clash after convincing wins in their respective quarter-final matches of the men's singles at the Fenesta Open National Tennis Championship on Thursday.
Arjun proved too good against second seeded P.C. Vignesh who was knocked out 6-2, 6-1, while the big serving Mohit marched into the semi-finals at the expense of Mukund Sasikumar 6-3, 7-5. Fourth seed Chandril Sood, who got the better of Delhi boy Saurabh Singh 6-2, 7-5, will face Arjun in the semi-finals on Friday. Mohit will be up against veteran Nitten Kirtane who dispatched Punjab boy Gurinder Singh 6-3, 6-2 at the R.K. Khanna Tennis Complex.
Arjun's form has been top-class in the tournament so far but the way he dominated Vignesh on Thursday did surprise many with the Andhra boy failing to pose any serious challenge in the two-setter match.
In the women's singles, Shweta Rana continued with her winning ways and accounted for Mahitha Reddy but not before the top seed went through some anxious moments in the first set. Eventually, Shweta won the contest 7-6(6), 6-1, while second seed Prerna Bhambri remains the biggest threat for Shweta in her quest to win the title.
Prerna, the defending champion, made her quarter-final match against veteran Rushmi Chakravorthi a one-sided contest and stormed into the semi-finals with a straight-set victory.Prerna outplayed Rushmi 6-3, 6-2 and will play C. Sai Samitha in the last four on Friday. The sixth seed Samitha was down 2-6 after the first set against Asian junior champion Snehadevi Reddy, before she came back strongly to win the next two sets 6-3, 6-1.
The day, however, started with a good contest between fourth seed Sharmada Balu and third seed Eetee Maheta. The two girls fought hard in the opening match of day but it was Sharmada who emerged victorious with a 7-6(5), 2-6, 6-2 verdict in her favour. Sharmada will be up against top seed Shweta in the semi-finals.
In the boys under-18 quarter-finals, Udayan Bhakar beat Nikki Poonacha 5-7, 6-4, 6-4, Mukund Sasikumar defeated Shrey gupta 6-1, 6-0. Hardeep Singh Sandhu edged past Prajwal Dev 4-6, 6-2, 6-3 and Dalwinder Singh thrashed B.R. Nikshep 6-1, 6-0.
In the girls under 18 quarter finals, C Sai Samitha beat Devanshi Bhimjiyani 6-3, 6-1, Karman K Thand beat Mihika Yadav i, 6-4, 4-6, 7-5. Teertha Iska defeated Shristi Slaria, 6-7 (3), 6-2, 7-6 (2) and Simran K Sethi beat Jennifer Luikhan, 6-4, 6-4

Mens Singles Quarter Final
Saurabh Singh vs. Chandril Sood, Winner Chandril Sood, 6-3,7-5
Nitten Kirrtane vs. Gurinder Singh,Winner Nitten Kirrtane, 6-3,6-2
Arjun Kadhe vs. P C Vignesh,Winner Arjun Kadhe,6-2, 6-1
Mohit M Jayaprakash vs. Mukund Sasikumar, Winner Mohit M Jayaprakash, 6-3,7-5

Ladies Singles Quarter Final
Eetee Maheta vs. Sharmada Balu, Winner Sharmada Balu , 7-6 (5), 2-6, 6-2
Rushmi Chakravorthi vs. Prenaa Bhambri, Winner Prerna Bhambri, 6-3, 6-2
C Sai Samitha vs. Snehadevi S Reddy, Winner C Sai Samitha, 2-6,6-3, 6-1
Shweta C Rana vs. Mahita Dadi Reddy, Winner Shweta C Rana , 7-6 (6), 6-1

Boys 18 Quarter Final
Udayan Bhakar vs. Nikki Poonacha, Winner Udayan Bhakar, 5-7, 6-4, 6-4
Hardeep S Sandhu vs. S D Prajwal Dev, Winner Hardeep S Sandhu, 4-6, 6-2, 6-3
Shrey Gupta vs. Mukund Sasikumar, Winner Mukund Sasikumar, 6-1, 6-0
Dalwinder Singh vs. B R Nikshep , Winner Dalwinder Singh ,6-1, 6-3

Girls 18 Quarter Final
Devanshi Bhimjiyani vs. C Sai Samitha, Winner C Sai Samitha, 6-3, 6-1
Mihika Yadav vs. Karman K Thandi, Winner Karman K Thandi, 6-4, 4-6, 7-5
Teertha Iska vs. Shristi Slaria, Winner Teertha Iska, 6-7 (3), 6-2, 7-6 (2)
Simran K Sethi vs. Jennifer Luikhan, Winner Simran K Sethi, 6-4, 6-4

Girls 18 Doubles: Semi-Finals
Vanshika Sawhney/ Himani Mor vs. Mansi Reddy/ Saranya Nagpal Winner Vanshika Swahney/ Himani Mor, 7-5, 6-3
Rajbir Kaur/ Vineeta Singh vs. Snehal Mane/ Nandini Sharma Winner Snehal Mane/ Nandini Sharma, 6-4, 7-5

Ladies Doubles: Semi- Finals
Mahita Dadi Reddy/ Bhuvana Kalva vs. Rushmi Chakravarthi/ Shweta Rana Winner Rushmi Chakravarthi/ Shweta Rana 0-6,6-4, 10-8