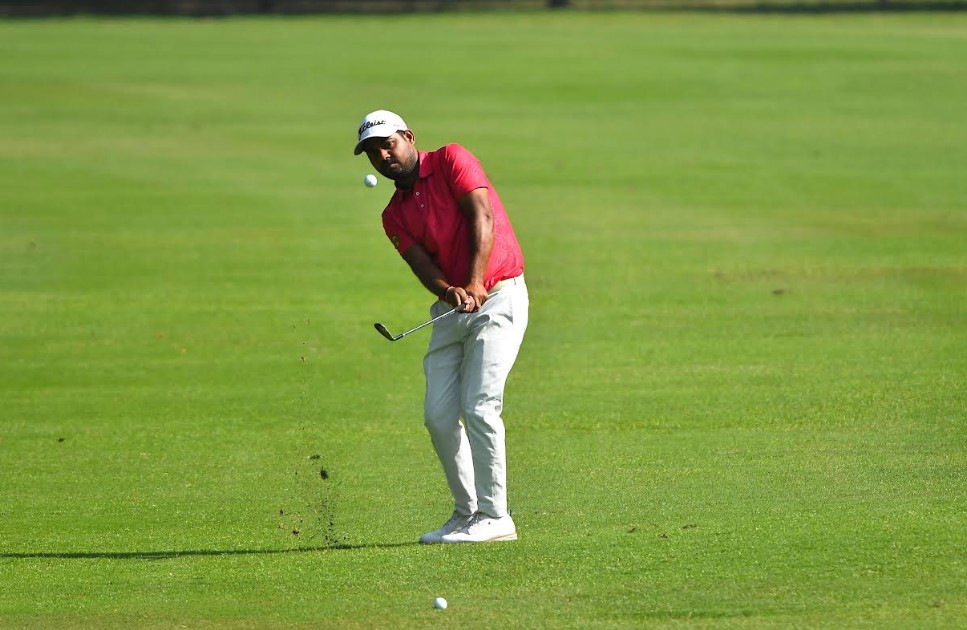 Chandigarh: Delhi's Sachin Baisoya played a flawless final round of five-under 67 to outclass his nearest rivals and take home the trophy at the INR 1.5 crore Jeev Milkha Singh Invitational 2023 presented by TAKE Sports played at the Chandigarh Golf Club.
Sachin Baisoya (66-68-71-67), lying overnight second and three off the lead, produced three birdies and an eagle in round four to end up with a tournament total of 16-under 272.
The 28-year-old Sachin, who bagged his second career title and also his second of the season, walked away with the winning cheque worth INR 22,50,000 that moved him up from third to second position in the TATA Steel PGTI Ranking. The pro from the Delhi Golf Club now has season's earnings of INR 63,46,666. On the TATA Steel PGTI Ranking, Baisoya trails close friend Om Prakash (Leader) by nearly INR 21 lakh.
Chandigarh's Abhijit Singh Chadha (70-66-70-67), like Baisoya, also brought in an error-free card of 67, to move up one spot and end the week in tied second at 15-under 273 as the highest-placed local golfer.
Bangladesh's Jamal Hossain (65-68-69-71), the overnight leader by three shots, returned a 71 to slip one spot on Sunday and end up as the joint runner-up at 15-under 273 along with Chadha.
Sachin Baisoya struck the ball and putted like a dream as he garnered birdies on the third, fifth and ninth, the last two from a range of 12 to 15 feet, to catch up with the leader Jamal. Baisoya, who also made as many as four quality par saves during his round, surged ahead after his eagle conversion from 25 feet on the 13th. There was no looking back for him from there on.
Sachin, who was placed second behind Jamal for the first three rounds, said, "At the start of the day, I just told myself to focus, play my own game and not get too aggressive and the birdies will come themselves that will in turn help me wipe out the lead. That's exactly what happened. Then after the eagle on the 13th I was in a very relaxed frame of mind.
"I made some great up and downs through the day and played my best shot of the day on the 16th where I hooked it around a tree and almost made the green to save par. I took inspiration from my win at the Tollygunge Club earlier this year.
"The win is a huge confidence-booster for me and this season is turning out to be very special."
Three-time international winner Rahil Gangjee also shot a 67, the day's joint lowest score, to take fourth place at 14-under 274.
Angad Cheema (69) was the second Chandigarh-based professional to finish inside the top-10 as he took seventh place at 10-under 278.
TATA Steel PGTI Ranking leader Om Prakash Chouhan (68) finished tied eighth at nine-under 279.
Indian golf legend and tournament host Jeev Milkha Singh (72-70-72-73) closed the week in tied 37th at one-under 287.
Chandigarh's K Raghav Bhandari finished as the best performing amateur in 43rd place at one-over 289.
Final Leaderboard:
272: Sachin Baisoya (66-68-71-67)
273: Abhijit Singh Chadha (70-66-70-67); Jamal Hossain (65-68-69-71)
274: Rahil Gangjee (72-66-69-67)
275: Gaurav Pratap Singh (71-69-68-67)