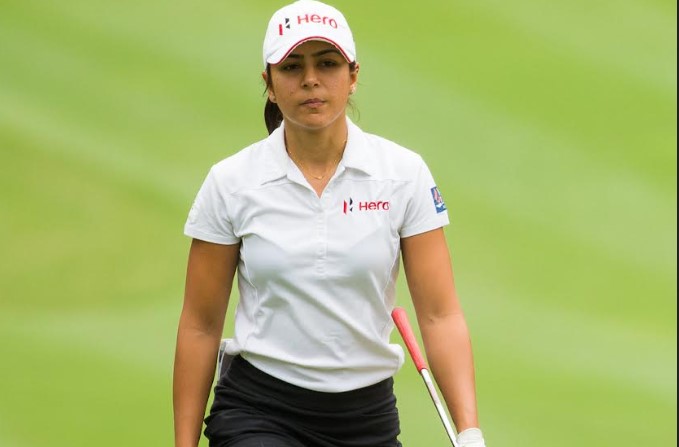 Gurugram: Tvesa Malik saw her lead cut by half but still held a comfortable 3-shot margin over her nearest rival after two rounds in the 13th Leg of the Hero Women's Pro Golf Tour at the DLF Golf & Country Club. Tvesa had three bogeys between the eighth and the 13th as she carded 2-over 74.
At one stage Ananya Datar (71-71), who shot a second straight 71 to come within three shots, was just one behind after 11 holes, at the rather challenging Gary Player layout which hosts India's biggest women's event, the Hero Women's Indian Open next month.
Tvesa was 5-under 139 for two rounds and Ananya Datar, seeking her maiden Hero WPGT win, was at 2-under 142.
The rest of the field was way behind. Khushi Khanijau (75-70) rose up the leader board to get to third at 1-over 145, while Neha Tripathi (71-75) slipped from overnight joint second to fourth at 2-over 146.
Tvesa dropped shots on the third and Par-5 eighth before she found her first birdie of the day on ninth to make the turn in 1-over 37. Meanwhile, Ananya was 2-under for the front nine as she had three birdies and just one bogey in her 2-under 34. The lead between the two was now just three.
On the back nine, when Tvesa bogeyed the Par-4 11th and Ananya birdied the same hole, the lead was just one shot.
The duo bogeyed the Par-4 13th and Ananya dropped a shot on 14th to help Tvesa move two ahead. A birdie on the Par-4 17th made the lead a handy three for Tvesa as Ananya parred the last four holes.
Khushi Khanijau had two birdies and two bogeys on the front nine but did much better on the back nine where she had three birdies against one bogey for the day's best round of 2-under 70 and she moved to sole third.
Overnight joint second Neha Tripathi, the winner last week, had a front nine with a bogey on Par-5 fourth and a triple bogey on Par-3 fifth. A birdie on eighth was small compensation and on the back nine, Neha seemed to make up some ground with birdies on 15th and 17th, but there was further disaster in the form of a double bogey on the Par-5 18th as she carded 75 to fall to fourth.
Jasmine Shekar (72-75) was fifth and Kriti Chowhan (74-76) was sixth. Pranav Urs continued to struggle as she added a 75 to her first round 76 and she was Tied-7th alongside Asmitha Sathish (77-74) and Agrima Manral (73-78).
Amateur Mahreen Bhatia, double medallist at US Kids European and US Kids World Championships golf, made a big improvement on her first round with a 73 after a first round 80 to force her way into Top-10.
Among the big names lagging behind were Seher Atwal (81-74) at T-12 and Sneha Singh (77-79) at T-15.
The cut fell at 167 and 27 players made the cut.
Tvesa Malik will play her final round with Ananya Datar and Khushi Khanijau.
Tee times for the third and final round of the 13th Leg of the Hero Women's Pro Golf Tour at DLF Golf and Country Club:
1. 7:10 am: Rhea Purvi S. 167, Oviya Reddi 167, Trimann Saluja 164;
2. 7:20 am: Janneya Dasanniee (A) 163, Ravjot K Dosanjh 163, Lavanya Gupta (A) 162;
3. 7:30 am: Hitaashee Bakshi 162, Zara Anand (A) 162, Lavanya Jadon (A) 160;
4. 7:45 am: Riya Yadav 159, Saaniya Sharma 158, Sneha Singh 156;
5. 7:55 am: Smriti Bhargav (A) 156, Anisha Agarwalla 155, Seher Atwal 155;
6. 8:05 am: Jyotsana Singh 155, Durga Nittur 154, Mahreen Bhatia (A) 153;
7. 8:20 am: Agrima Manral 151, Pranavi Urs 151, Asmitha Sathish 151;
8. 8:30 am: Kriti Chowhan 150, Jasmine Shekar 147, Neha Tripathi 146;
9. 8:40 am: Khushi Khanijau 145, Ananya Datar 142, Tvesa Malik 139