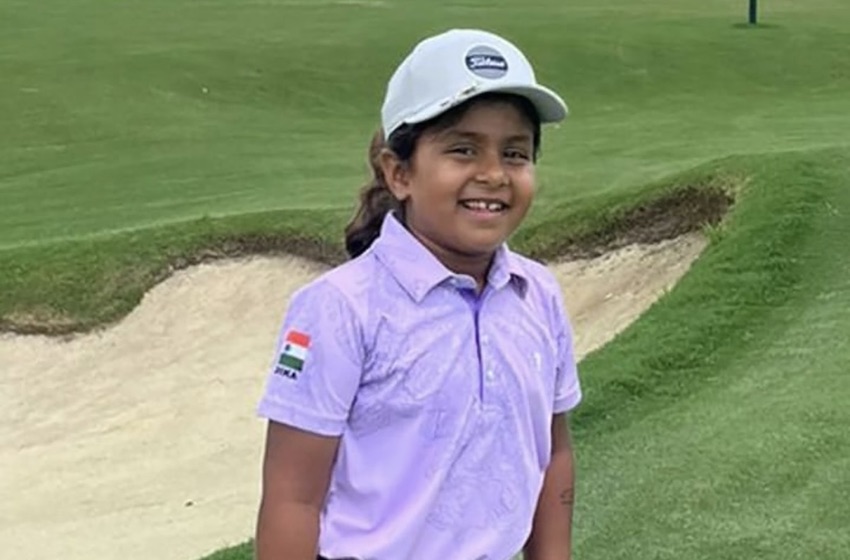 Pinehurst: Vedika Bhansali, the emerging star from Bengaluru, turned in a superb final round of 3-under 33 to leap into Top-4 of the Girls 7 years category of the US Kids Golf World Championships. As many as four Indians finished in the Top-six of the final placings in their respective categories.
Vedika Bhansali, coached by former India pro, Rahul Ganapathy, was fourth as were Nihal Cheema (Boys 6) and Ojaswini Saraswat (Girls 10). Adding to the fine showing were Kabir Goyal (T-6 in Boys 8) and Shambhavi Chaturvedi (T-15 in Girls 11). Later this year, Vedika will play in US Kids Golf India Tour in Bengaluru to be run by Ganapathy.
Vedika picked four birdies in her final round of 3-under 33 as she moved from T-10 to T-4 in Girls 7 at Midland Country Club. The runaway winner in the category was Japan's Emi Minami, who shot under par on each of the three days including a 6-under 30 on second and 4-under 32 on the final day for 12-under 96. Ahana Shah (42) finished T-23 in the same section.
Nihal Cheema despite being hit by bogeys on his last two holes carded even par 36 in the final nine-hole round, He totalled 1-under 107 and ended fourth in Boys 6 Category, as American Jaxon Callon (34) took the top spot at 5-under 103 at Midland Country Club.
In Girls 10 at Southern Pines Golf Club, Ojaswini Saraswat found two birdies right at the end of her round of 74 but the four bogeys earlier cost her dearly. She ended fourth with 2-under 214. Iris Lee, who led after the first day, won with a final round of 72.
Kabir Goyal, in Boys 8, added a 2-over 38 for Tied-sixth in the third round and finished at 4-over 112 at Mid Pines (Back) as French youngster Cayssi Dunlop (34) with 1-under 107 emerged the winner. The second Indian, Sahib Aujla, dropped to T-83 after a final round 47.
The two weeks of the US Kids World Championships saw over 2200 youngsters from 55 countries, including 21 golfers from India.
"The growing success of our young stars over the last two weeks and last few years has led us to expand US Kids Golf India to three zones in India – North, West and South in Bengaluru. Also, the US Kids Golf India has expanded to events in Singapore, Malaysia and Thailand, and we will soon be adding Vietnam and more. This will lead to a US Kids Asian Championships next year," said Rajesh Srivastava, President of US Kids Golf India and Asia.
For Boys Under eight years and Girls Under nine years, the rounds are nine each and the layouts are age-specific in the only world event of its kind.
Adit Veeramachaneni shot his first under-par round on the final day with a 2-under 70 at Legacy Golf Links as he moved from T-45 to T-24 in the Boys 10 Category. Noah Hollinger won with a third-round 66 and an impressive total of 8-under 208.
Chaitanya Pandey shot under par round of 71 to rise from T-36 to T-25 in Boys 11 at Talamore Golf Club, where Justus Hudson (66) was the winner at 15-under 201.
Naina Kapoor (76) was T-30 with Girls 11, while Hazel Hooper won the title at 7-under 209 at Pinehurst 6.
In Girls 12 at Pinehurst 5, Shambhavi Chaturvedi salvaged a creditable finish with a 1-under 71 that saw her finish T-15 in Girls 12, while Ananyaa Sood (75) was T-20.
Last week three Indians, Mahreen Bhatia (2nd in Girls 14), Kartik Singh (T-3 Boys 13) and Lavanya Gupta (T-3 Girls 15-18) had podium finishes in the World Teen Championships for Boys and Girls at Pinehurst. Also, Mahreen and Kartik finished on the winning side of the Team event for the Van Horn Cup.
The U.S. Kids Golf World Championship is recognised as a ranked event for the Junior Golf Scoreboard and the American Junior Golf Association besides allowing the players to gain World Amateur Golf Ranking points.