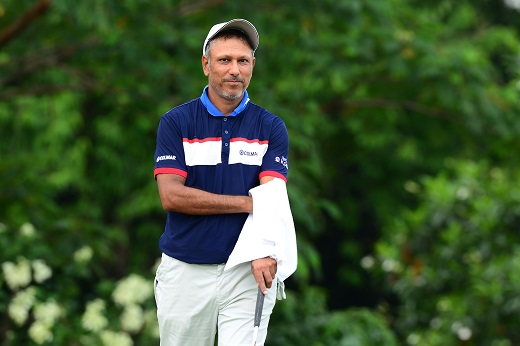 Chandigarh: TAKE Solutions and the TATA Steel Professional Golf Tour of India (PGTI) will jointly stage the second edition of the Jeev Milkha Singh Invitational Presented by TAKE Solutions at the revered Chandigarh Golf Club from October 17 – 20, 2019. The main event will be preceded by the Pro-Am event on October 16.
The tournament had been jointly launched by TAKE Solutions and TATA Steel PGTI in 2018 as a gesture to honour Indian golfing legend Jeev Milkha Singh.
The 2019 edition of the tournament will once again be staged at Jeev's home course, the Chandigarh Golf Club and will offer a handsome prize purse of Rs. 1.5 crore. The field will feature 132 players including 129 professionals and three amateurs.
The stellar field for the tournament this year has great depth as the leading Indian names in the fray are event host Jeev Milkha Singh, Jyoti Randhawa, defending champion Chikkarangappa, Khalin Joshi, Ajeetesh Sandhu, Viraj Madappa and the 2019 TATA Steel PGTI Order of Merit leader Rashid Khan, to name a few.
The foreign challenge will be led by Indonesian star Rory Hie, who won an Asian Tour event in India last month, Bangladesh's Md Zamal Hossain Mollah and Sri Lankans Anura Rohana, Mithun Perera and N Thangaraja.
The other prominent names from Chandigarh besides Jeev Milkha Singh and Ajeetesh Sandhu are those of last year's runner-up Karandeep Kochhar, Aadil Bedi, Abhijit Singh Chadha, Sujjan Singh, Angad Cheema, Harendra Gupta, Akshay Sharma, Yuvraj Singh Sandhu, Harmeet Kahlon, Amandeep Johl, Gurbaaz Mann, Feroz Singh Garewal, Ranjit Singh and Amritinder Singh. One of the three amateurs Sunny Singh also hails from Chandigarh.
The tournament will witness the launch of TAKE Solutions' and TATA Steel PGTI's joint Go Green initiative whereby plastic water bottles will not be provided to players for their on-course water requirement. Players have been requested to carry their own flasks or bottles which can be refilled at the water dispensers placed at various locations across the golf course. This initiative has been taken in keeping with the spirit of the Swachh Bharat Mission.
The legendary Jeev Milkha Singh is the first Indian professional golfer to have a PGTI event named after him. Jeev conquered uncharted territory over two decades back when he became one of the first Indian golfers to taste success at the international level. Since then he has added many more firsts and Indian records to his name.
Jeev has the rare distinction of being the only Indian to have won the Asian Tour Order of Merit twice (in 2006 & 2008). He has won multiple titles on the European Tour, Japan Golf Tour and Asian Tour and has 14 Major appearances to his name. Jeev has also achieved a career-high world ranking of 28, an Indian record.
Jeev Milkha Singh, said, "After the huge success of the inaugural edition of the Jeev Milkha Singh Invitational Presented by TAKE Solutions last year, I'm really looking forward to hosting the second edition of the tournament this year.
"I would like to thank TAKE Solutions, PGTI and the Chandigarh Golf Club for all their efforts in putting this event together last year and this year. I would also like to thank the club members and the media for all their support which has been very encouraging for the event.
"I couldn't have asked for a better finish last year as it ended in a nail-biting playoff between two of India's most talented youngsters, Chikkarangappa and local favourite Karandeep Kochhar. Chikkarangappa was a truly deserving winner at the end of that pulsating playoff encounter.
"This year's event promises to be even better as a visual treat awaits golf fans in Chandigarh. The course is in great shape and the field has a lot of depth with a number of Indian players of international reckoning and a few reputed foreign names in the mix. I'm also eager to perform well in front of my home crowd this year.
"I wish the players all the best and hope the players, spectators and everyone else involved in the event relishes the experience and enjoys the week."
Srinivasan H R, Vice Chairman & Managing Director, TAKE Solutions and Joint President, PGTI, said, "We are delighted to join Professional Golf Tour of India (PGTI) again in hosting the 'Jeev Milkha Singh Invitational presented by TAKE Solutions' this year in a brand new avatar. Last year's tournament saw one of the strongest fields with international players playing in an Indian tour. Jeev played a brilliant host in the inaugural edition and he is always an inspiration to all golfers in the country. We thank PGTI, Jeev Milkha Singh and the Chandigarh Golf Course (CGC) in becoming the first India tour event to initiate the "plastic free" campaign. We look forward to a phenomenal season this year!"
Uttam Singh Mundy, CEO, PGTI, said, "We are extremely excited about staging the second edition of the Jeev Milkha Singh Invitational Presented by TAKE Solutions which has emerged into one of the marquee events on the TATA Steel PGTI calendar in a very short span of time. The first edition of the tournament last year was a roaring success and we hope to build on that solid foundation this year as we once again host a top-class field with a number of leading Indian names in the mix.
"The event is a tribute to Jeev Milkha Singh's extraordinary accomplishments at the global stage which have helped elevate the status of Indian golf and inspired many other Indian golfers to follow in his footsteps. We thank TAKE Solutions for being the driving force behind this event and the Chandigarh Golf Club, the place where Jeev began his golfing journey, for hosting the event for the second year in succession. We are also proud to announce that the tour will be going plastic-free beginning with this event in order to do our bit for environment protection."
S S Sandhu, President, Chandigarh Golf Club, said, "Taking a cue from the ongoing festive season, many activities have been planned along with this prestigious tournament for the members in particular and for golf lovers at large. Free entry to the course will be allowed to golfing fans so they can witness their favourite stars in action.
"Professionals will hold a demonstration on how to maximize driver distance on the evening of 16th October. This demonstration is open to all club members and will be followed by a Club Night. On 18th October another club night will be held with live band and variety of food stalls at hand will add a Festive Look to the entire show."
S P S Matharoo, Captain, Chandigarh Golf Club, said, "It is the proud privilege of Chandigarh Golf Club to host the 2nd edition of 'Jeev Milkha Singh Invitational Presented by Take Solutions'. We at the Chandigarh Golf Club, have worked very hard to ensure that the Course is in Pristine Playing Condition for this most important tournament in our annual calendar. We look forward to the players achieving record-breaking scores."