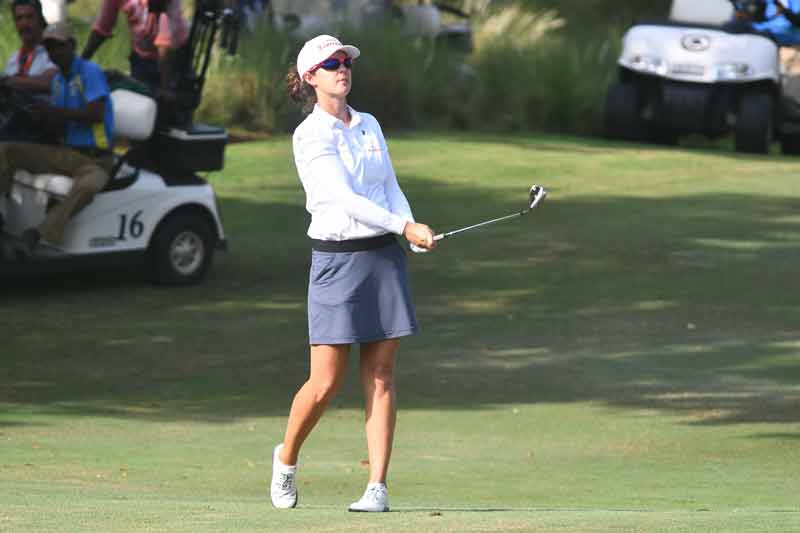 Gurugram: Christine Wolf may well have buried the demons of the past with a birdie on the 18th in the third round to take sole possession of the lead after 54 holes in the Hero Women's Indian Open on Saturday. Wolf has never won on the Ladies European Tour, though she came within touching distance of it a year ago at this very event before falling foul at the 18th.
The relief was there for all to see as her third shot sailed over the dangerous lake and landed five feet from the flag for a birdie that has taken her five visits to register at the closing hole.
It was Wolf's first birdie at the 18th in five starts on this course. Last year her scores at the 18th were a nightmare with DB-Par-Quadruple-DB (7-5-9-7).That single Par-5 hole cost her eight shots and she ended second by two as Becky Morgan won the trophy.
Wolf, whose scores at the 18th this year have been Par-Par-Birdie, carded 67, her best ever at the Gary Player course. She is now eight-under and one shot clear of Meghan MacLaren (69), whose only previous visit to the event produced a Tied-ninth finish in 2017. Another shot behind at seven-under 209 was Marianne Skarpnord (71), the highest-ranked player from the LET Order of Merit in this field.
For India, amateur Anika Varma, just 15, gave the fans a lot to cheer for with a stunning 67, that equalled Johanna Gustavsson's card and later leader Wolf also shot the same. Anika, who had six birdies, five of them on the front nine, against one bogey on 17th, was Tied-ninth as was Tvesa Malik, who followed her even par 72-72 with a 71 to get to one-under 215. Vani Kapoor shot even par 72 to be Tied-13th at one-over 217.
Wolf admitted she had a point to prove and said, "I love coming to India anyway. The people are super friendly, the weather is great and the course is amazing and then I think also, because of what happened last year…"
She confessed it took a long time to get over that. "The caddie keeps talking about it, so it's sort of there, but I have practised a lot, especially those shots and I have been hitting my wedges really well."
"It took me a while. I don't know how long exactly but it just kept coming up. It did at the start of the season, not anymore," she added.
Wolf, whose sole success has been the team title at the European Championships last year, was famously four clear after two rounds in the 2018 edition, only to lose that lead with a quadruple bogey on nine in the third. In the final round, she was again tied with leader Becky Morgan at seven-under before dropping a double on the last.
As MacLaren moved up a place from third to second, Skarpnord dropped one down to be Tied-third with second round leader, Australian Whitney Hillier(72). Linda Wessberg (76), Tied-third overnight, had a triple on 10th and a bogey on 18th, to drop to Tied-13th. Norway's Tonje Daffinrud (68) was fifth.
Speaking of 2018, Wolf added, "It was the first time I'd really been up there for three days and then on the last day I fought back and was up there again and then I hit that same shot. It just makes you think about what you could have done differently."
She went on, "From the start of the season I was just thinking I can't wait to be in India. I mean, Becky played really well last year, but I feel I played well on 17 holes every day. Then the 18th happened on Saturday and again Sunday."
She knows it is still not over, "There are still 18 holes to play and a lot of holes to go so in golf you can never say I deserve it. I just enjoy coming here and I guess the course suits my eye."
This Sunday she has a chance to finally end that nightmare.
Amateur Anika Varma is India's top placed player
Anika Varma turned on some great play to card five-under 67. Now based in the United States, Anika (76, 72, 67) was the best ranked Indian in the field at Tied-ninth along with Tvesa Malik (72, 72, 71), at one-under par 215, seven shots behind Wolf.
Anika, till recently India's top ranked junior and a qualifier in the US Girls Championship earlier in the year hit six birdies and looked poised to bring in a bogey-free card till she dropped a shot on the intimidating par-4 17th hole. That was her only blemish of the day as she showed great composure and calm.
"I kept hitting it very good today," Anika said later. "I didn't need very long putts other than the eighth hole where I needed a little over 20 feet for the conversion. Most of my approach shots were within range so I could just go for most of the putts."
"Tomorrow, I'll just try and keep an open mind, would just try to do as well as I can and try and be happy on the course, that's all, really."
Tvesa said, "I left a few shots out there on the course but I made the putts when I needed them. Overall, I'm very happy with my first under-par round of the week and positive about tomorrow."
DLF regular Vani Kapoor was tied 13th at level par 216 (74, 70,72) following a steady round, in the course of which she swapped two bogeys for as many birdies, while Amandeep Drall could not build on her momentum of Friday with a 3-over 75 that dropped her into a tie for 27th place at 3-over 219. Astha Madan was next best at 4-over 220 (73, 75, 72) with her first par round of the week.
Diksha Dagar too left shots out on the course and is now tied 36th at 5-over 221 (72, 73, 76) and Gaurika Bishnoi, the joint best Indian finisher with Tvesa last year, was T42 at 6-over 222 (73, 74, 75).