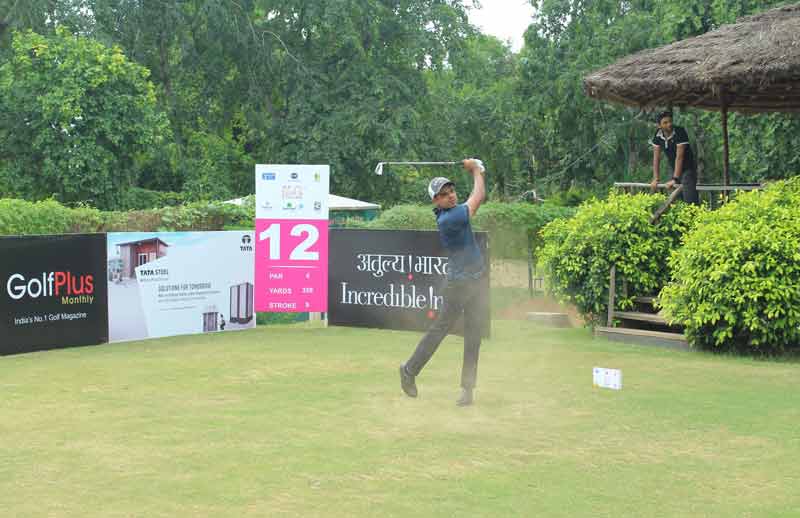 Jaipur: The final day of the TATA Steel PGTI's Jaipur Open 2019 could witness a tussle between Bengalureans Syed Saqib Ahmed and M Dharma as the two ended the penultimate day of the tournament with just one shot separating them at the top of the leaderboard at the Rambagh Golf Club.
While Saqib shot a stoic two-under-68 to continue in the lead for the second day running with a total of 17-under-193, Dharma returned a gutsy five-under-65 to total 16-under-194 and thus reduce Saqib's overnight three-shot lead to just one stroke at the Rs. 30 lakh event.
Gurugram-based rookie Priyanshu Singh's round of 63 placed him third at 14-under-196.
Chandigarh's Abhijit Singh Chadha, an Asian Tour regular, fired the day's best score, a flawless 62, to be in tied seventh place at 12-under-198.
Syed Saqib Ahmed (64-61-68), who had equaled the week's lowest score of 61 on day two, had a productive front-nine on Thursday as he sank three birdies including a chip-in on the sixth. With his lead increasing to four shots at the turn, Saqib seemed to be on course to take total control on day three.
However, Saqib couldn't push ahead on the back-nine as the birdies dried up for him. The 25-year-old, who won his only event on the PGTI in February 2018, ended up dropping a bogey on the 17th to close the day with just a one-shot advantage.
Saqib said, "It was a decent round but not what I would've expected. After being three-under through the first eight holes, I was looking to drive home the advantage. But I just didn't create enough opportunities for myself on the back-nine.
"After two really low rounds, I guess there was bound to be one average round. I'm glad that it's happened now and not in the final round. It's now about focusing hard and thinking about one shot at a time in round four. Dharma is quite experienced so it will be a tough contest."
M Dharma (62-67-65), lying overnight joint third and four off the lead, gained one spot and rose into contention as a result of his dramatic third round of 65. Dharma, who like Saqib also hails from the Karnataka Golf Association (KGA) course, had a poor start as he made double-bogey and bogey on the third and fourth to be two-over for the day. He found the bunker and missed up and downs on both holes.
The 33-year-old Dharma, a two-time winner on the PGTI, was thereafter on a roll as he drained long birdie putts on the sixth, eighth and 16th and also nailed an eagle from 30 feet on the 14th. He narrowly missed out on another eagle conversion from 30 feet on the 18th where he picked up a birdie. Dharma's also hit an immaculate approach on the 15th from 150 yards that stopped a foot from the flag and helped him gain another stroke.
Dharma said, "I felt I fought back really well after the early disappointments. The eagle on the 14th helped me relax as I knew that just another one or two birdies from there on would put me in a good position.
"After two top-10s at the start of the year my game has not been as consistent. I now want to make up for that. I have the confidence going into the last round as I've had a good track record here at Rambagh over the last two years. I finished third last year after a final round of 61 and also had a top-10 the previous year," added Dharma, who won his last title in December 2017.
Priyanshu Singh, the 2019 PGTI Q School champion, put up a display of some fine ball-striking as he set up all of his eight birdie putts within a range of six feet. Priyanshu, who played three events on the PGA Tour Series – China this summer, dropped a lone bogey on the 11th. He thus rose 10 places from his overnight tied 13th.
Ludhiana's Pukhraj Singh Gill (66), Kolkata's Divyanshu Bajaj (67) and Gurugram-based Abhinav Lohan (69), were all in tied fourth at 13-under-197.
Defending champion Aman Raj (65) of Patna was placed tied 10th at 11-under-199 while PGTI Order of Merit leader Rashid Khan (65) of Delhi occupied tied 23rd place at eight-under-202.