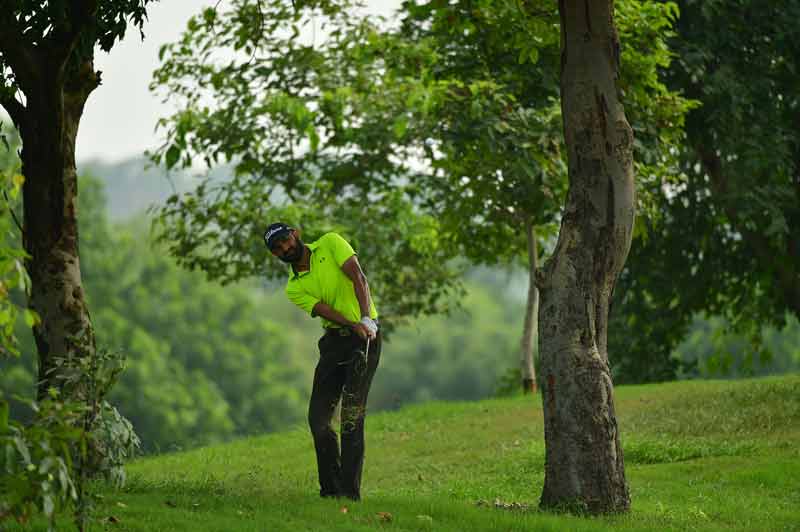 Gurugram: Indonesia's Rory Hie closed with a pair of birdies to keep sole lead at 12-under par 132 at the halfway mark of the $300,000 Classic Golf & Country Club International Championship 2019 on Friday. Hie, winless since turning pro in 2008, is one shot ahead of Chandigarh golfer Abhijit Singh Chadha, who rode on a run of six birdies in a eight-hole run from first to eighth on his second nine, which was the front stretch of the layout.
Chadha, 28, looking for his maiden Asian Tour success, is 11-under 133 and in sole second place.
Hie, who like Chadha started from the 10th tee, mixed two birdies and one bogey on his outbound nine. He would drop one shot early on his homeward nine as well but cancelled that out with a three gained strokes including the vital one on the par-5 ninth hole for the outright lead in what promises to be a tight contest going into the weekend.
The day's best round came from American Nicholas Latimer who shot 64 and behind him were Chadha, Thailand's Kosuke Hamamoto and American Trevor Simsby, who shot 65 each.
Chandigarh golfer Chadha was one shot ahead of three others on 10-under 134s that included fellow 2010 Asian Games silver medallist Rashid Khan, Asian Tour rookie Aman Raj and Hamamoto.
Chadha also led a dominant Indian performance at this inaugural event co-sanctioned by the Asian Tour and the Professional Golf Tour of India with as many as eight domestic challengers finding a place in top 16 going into the final two days.
Hie, who returned a 4-under 68 to go with his 64 on the first day, said about his late recovery, "My tee shots were really good today and that was the strongest part of my game. I actually didn't get off to a good start as my iron shots were kind of dodgy but I was able to bounce back each time I made a bogey and the highlight of my round was really being able to recover each time I made a mistake. It was good to end the round with back-to-back birdies."
"I felt like I was able to play the course very smartly and didn't allow myself to make too big a mistake today. I'm actually very excited that I'm going into the weekend round with the lead as it's not very often that I can do that on the Asian Tour," said the leader, Hie.
Chadha, who was fortunate when his drive on the par-5 18th hole, his ninth, hit a tree and rebounded onto the fairway, said, "I am really happy to be in this position."
Chadha said, "I have won thrice on this course so I'm very comfortable on every tee shot and on the greens. It feels almost like a home course for me. I know where to hit and I am at ease with myself at this venue. I putted really well today and put myself in good positions."
He added, "On the 18th, I hit a wayward drive. It hit a tree and came back on the fairway. It was a lucky break and I capitalised on that. That birdie kind of gave me a boost and after that whatever shots I was playing, I was pulling them off. I made a lot of putts today on the front nine."
Aman Raj, lying tied third, said, "I feel I judged the conditions well today. Having teed off in the morning, I knew there would be dew and the course would play longer than it did when I teed off in the afternoon yesterday. I therefore played one club longer on most shots. I'm happy with the overall score but ending with a bogey always pinches especially on a par-5 when I had a hybrid in my hand on the fairway. But this is golf and you have to take it and move forward."
Rashid Khan, who was also tied-third said, "I started really well. I was 4-under after 7 holes. I gave myself a lot of chances after that, they just did not fall even though I putted well, so that was little disappointing. But overall I think I'm playing really good golf. Over the past two days I have made 10 birdies and I'm 10-under. No bogeys today as well, so pretty happy with two bogey-free rounds."
"I have been in this situation before, but I'm not thinking much right now. I'm not thinking of the last 2 rounds, I'm just thinking of the last nine holes on the fourth day", added Rashid.
Latimer, on his first trip to India, also struck an upbeat note even though he in shared sixth place with Thailand's Suradit Yongcharoenchai, Byungjun Kim of South Korea and Asian Tour rookie Aadil Bedi, "Anytime you shoot a 64 you're going to end up in a happy place, so I feel pretty good," he said. "I actually hit it really well yesterday and didn't get anything out of my round, so to capitalize on some of those good shots today felt good. The rough is pretty thick so you have to keep it in the fairways."
37 Indians make the cut
Thirty seven Indians made the cut, which fell at one-under 143 and 75 professionals made the cut.
Among the prominent names missing the cut was Ajeetesh Sandhu, whose 70-74 saw him fall one shot short. Also missing out on the weekend rounds was Taehee Lee, who is currently fourth on the Habitat for Humanity Order of Merit.
Jyoti Randhawa (75-68), the only Indian to have an Asian Tour event at the Classic Golf & Country Club, made the cut on the line, as did Digvijay Singh (72-71).