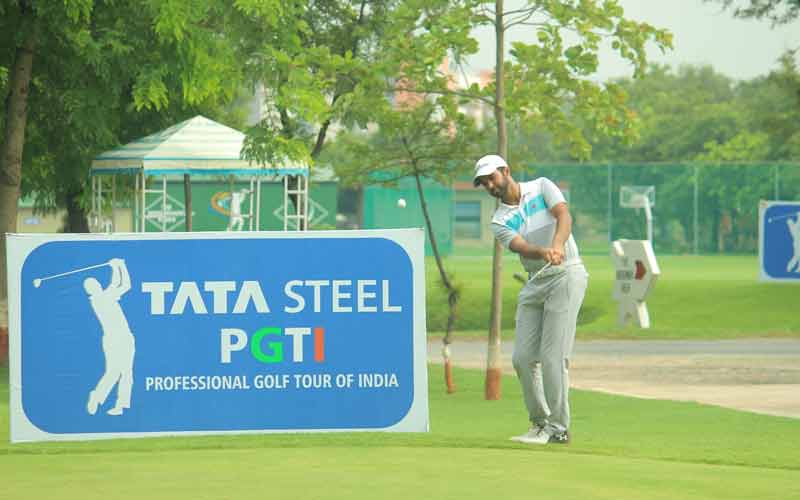 Karnal, Haryana: Delhi-based Dhruv Sheoran shot a top-notch six-under-56, his first ever bogey-free round in a professional tournament, to grab the first round lead at the TATA Steel PGTI Feeder Tour 2019 Presented by Madhuban Meadows being played in Karnal.
While the 24-year-old Sheoran, the 2017 PGTI Qualifying School champion, raced away into the lead on day one, 22-year-old rookie Yuvraj Singh Sandhu of Chandigarh was placed second at five-under-57.
As a result of heavy rain one day prior to the event, the 14th and 15th holes, both par-4s, have been rendered unplayable for the whole tournament, thus all three rounds will feature 16 holes each with the par for the course being 62.
Dhruv Sheoran, a two-time winner on the Feeder Tour last year, shot his best round of the season to take the honours on Wednesday. Sheoran started well with a terrific tee shot and chip on the 10th where he tapped-in for birdie. Dhruv's chipping came to his rescue once again on the 16th where he managed to salvage a birdie with a five-foot conversion despite an erratic drive.
On the front-nine, Sheoran picked up four more birdies to earn his place at the top of the leaderboard. His birdies on the front-nine included three quality up and downs on the second, fourth and sixth and a near perfect tee shot on the par-3 fifth that landed a foot from the flag.
Dhruv, currently in second place in the Feeder Tour Order of Merit, said, "It's great to post my first ever error-free round in a tournament. The feel-good factor from this round should help me carry forward the form into the next two rounds. Everything just seemed to fall in place today. I hit some brilliant drives, had some good chips and putted consistently."
While Yuvraj Singh Sandhu mixed six birdies with a bogey to be placed second, Gurugram's Kushal Singh occupied third place at four-under-58.
Karnal golfers, professional Mani Ram and amateur Ritesh Kumar, were both in joint 13th place with scores of even-par-62.
Suryadeep Lather, another Karnal-based professional, returned a 10-over-72 to be placed tied 77th.
Feeder Tour Order of Merit leader Anil Bajrang Mane of Mumbai carded a one-over-63 to be tied 20th.