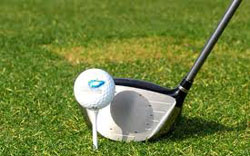 Karnal: The 2019 TATA Steel Professional Golf Tour of India (PGTI) Feeder Tour will stage its third event of the season at the Madhuban Meadows Golf Course in Karnal, from August 21 – 23, 2019. The tournament carries a prize purse of Rs. 8 lakh.
As a general rule, the top-60 players from the 2018 PGTI Order of Merit are not eligible to play on the Feeder Tour in 2019. However, two spots will be allocated in all Feeder Tour events for top-60 players from last year's (2018) Order of Merit. The winner of this year's Feeder Tour Order of Merit will earn an exemption on the main tour for the 2020 season.
The two top-60 players in the field at Madhuban Meadows would be local lad Mani Ram, a three-time winner on the Feeder Tour and the 2010 Feeder Tour Order of Merit champion, and Chandigarh's Ranjit Singh.
The three local professionals in the field are Karnal-based players Mani Ram, Suryadeep Lather and amateur Ritesh Kumar.
The field in the tournament will feature a total of 85 players. The top 36 players and ties will make the cut after the first two rounds.