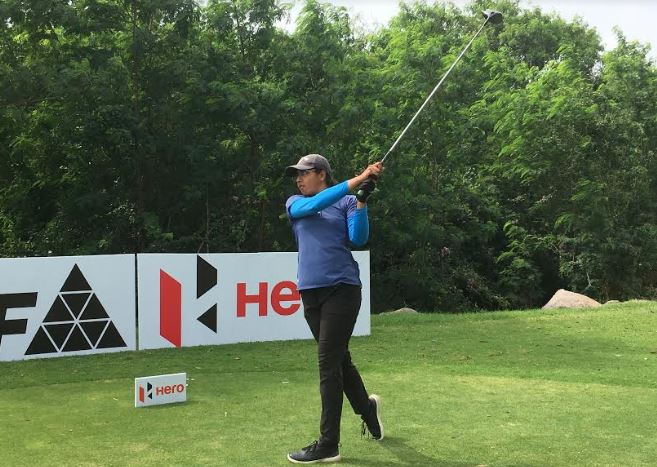 Hyderabad: Amateur Shreya Pal held a slender one-shot lead even as Gaurika Bishnoi made a big charge in the second round of the 12thLeg of the Hero Women's Pro Golf Tour at the Boulder Hills Golf & Country Club on Thursday. The local golfer, Shreya, who turns 16 next week, dropped a crucial bogey on the 525-yard par-5 closing 18th hole to see her lead drop from two to just one shot. Shreya, who finished with a card of even par 72 with three birdies and three bogeys is now five-under 139. She shot five-under 67 on the first day.
Gaurika Bishnoi, one of the multiple winners this season, started the day five behind Shreya. Gaurika, who turned 21 last week and is currently leading the Hero Order of Merit, was off to a fine start on the second day. She birdied the Par-3 third, Par-4 fourth and Par-5 seventh. She added a fourth birdie on the Par-4 ninth to turn in four-under and at that stage she trailed the leader by two, as Shreya had birdied the fifth. As Gaurika added a fifth birdie to go five-under, the lead was down to one. Gaurika, playing one group ahead, dropped a shot on 11th, but so did Shreya. On the 12th, Shreya had another bogey, which meant the two were now level and tied for the lead.
However, the young Shreya showed great nerves to hole birdies on 13th and 15th and go two ahead again before she dropped a shot on 18th. Meanwhile Gaurika, who had a couple of birdie chances, parred seven holes in a row from 12th to 18th for a 68. She now trails Shreya by one and they will go out together in the final group alongside Gauri Karhade, who is the only player in the field to shoot both rounds in under par. Gauri, looking for her first title on the pro Tour, shot 71 on the first day and followed that up with a 70 that started with birdies on the first two holes. She had another birdie on 12th while her lone bogey came on 11th. She trails Shreya by two and Gaurika by one to set up an interesting three-ball for the final round.
Ananya Datar (70-74) was fourth, while Afshan Fatima (74-71) was fifth and Amandeep Drall (74-72) was sixth. Siddhi Kapoor (74-73) was seventh as Gursimar Badwal (79-72) and last week's winner, amateur Sneha Singh (72-79) were Tied-eighth. Sneha had just one birdie against five bogeys and a triple bogey.
Gurjot Badwal (77-75) and Ishvari Prasanna (73-79) were Tied-10th.
With the top three having under par totals, an interesting final round should be in store. Gaurika will be going for her third win, while Shreya Pal and Gauri Karhade will be eyeing their maiden title.
Tee times for third and final Round, Leg 12, Hero Women's Pro Golf Tour, Boulder Hills Golf and Country Club, Hyderabad:
8:30 AM: Oviya Reddi 165, Anisha Agarwalla 164, Suchitra Ramesh 164;
8:40 AM: Anousha Tripathi 160, Jyotsana Singh 160, Ridhima Dilawari 156;
8:50 AM: Khushi Khanijau 155, Ishvari Prasanna 152, Gurjot Badwal 152;
9:00 AM: Sneha Singh (A) 151, Gursimar Badwal 151, Siddhi Kapoor 147;
9:10 AM: Amandeep Drall 146, Afshan Fatima 145, Ananya Datar 144;
9:20 AM: Gauri Karhade 141, Gaurika Bishnoi 140, Shreya Pal (A) 139;