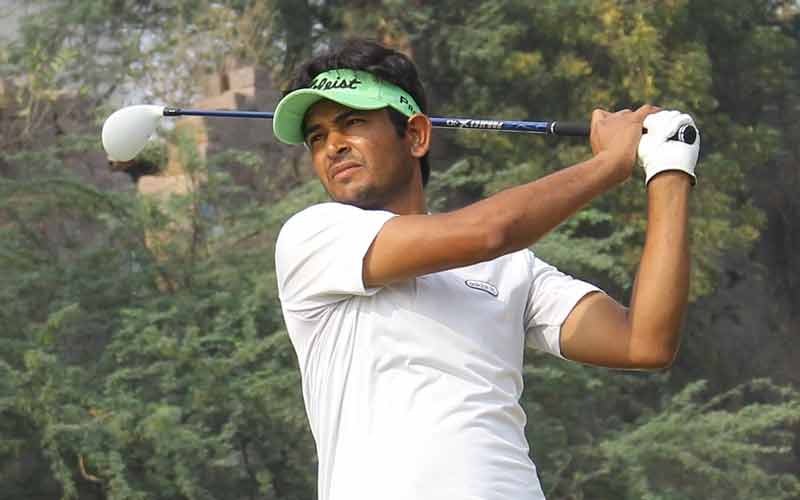 Faridabad: Chandigarh's Harendra Gupta shot a final round of five-under-67 to coast to a five-stroke win at the TATA Steel PGTI Feeder Tour event being played at the Aravalli Golf Course in Faridabad, Haryana.
Gupta (70-64-67), who totaled 15-under-201 for the week, bagged his 10th title on Thursday. It was his first win in three years.
Mumbai's Anil Bajrang Mane (70-70-66) fired the day's joint best score of six-under-66 to finish runner-up at 10-under-206. His second place finish propelled him into the lead in the PGTI Feeder Tour Order of Merit.
After two hot and humid days, Thursday provided ideal weather conditions for a round of golf as it was cool, overcast and low on humidity.
The seasoned Harendra Gupta (70-64-67), who led by four shots going into the final round, brought all his experience to the fore on Thursday as he made an eagle, four birdies and a bogey during his third round of 67.
Harendra, playing without any pressure, never looked in trouble at any stage in round three and managed to drive home the advantage that he had gained in the previous round. After a birdie on the third Gupta drove the par-4 green on the eighth and chipped-in from 30 yards for an eagle-two. It was his third eagle-two in two days.
Harendra made his only bogey of the day on the 10th but then roared back with three more birdies on the 11th, 16th and 17th. He drove the par-4 16th green to set up a two-putt birdie and sank putts from a range of 15 to 20 feet on the 11th and 17th.
Gupta said, "I just built on the momentum from yesterday. It's been a terrific week. I made four eagles and four chip-ins this week. The second round of eight-under-64 was one of my best in recent times. It served as a huge confidence-booster.
"Today I didn't feel any pressure as such. I struck the ball really well and drove two of the par-4 greens. I've won after a long time and hopefully this win will give me the much-needed self-belief to get my game back on track."
Anil Bajrang Mane, who was overnight tied seventh, climbed five spots to second place on day three courtesy his 66 that included seven birdies and a bogey. He drained a 20-footer for birdie on the 17th.
It was Mane's third runner-up finish on the Feeder Tour. Anil had finished fourth at last week's Feeder Tour event at Chhawla. Mane's consistency on the tour so far this year has given him the lead in the Feeder Tour Order of Merit.
Delhi's Sachin Baisoya (72) took third place at five-under-211.
Faridabad's Abhinav Lohan (72) shared fourth place along with Chandigarh's Yuvraj Singh Sandhu (66) and Pune's Sagar Raghuvanshi (66) at four-under-212.
Ramesh Kumar (70), the other Faridabad golfer in the fray, finished tied seventh at three-under-213.