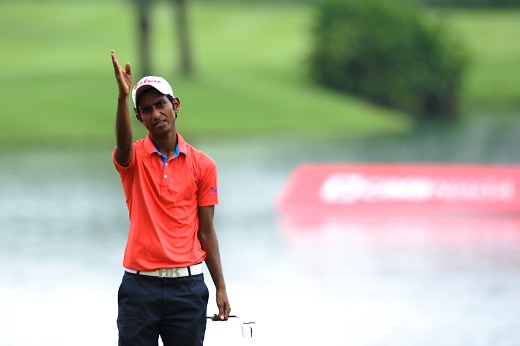 Delhi: Delhi's Rashid Khan shot a scintillating final round of 10-under-54 to clinch victory by four shots at 14-under-149 at the TATA Steel PGTI Feeder Tour 2019 Presented by BSF Golf Course, played at Chhawla, New Delhi.
Rashid (61-31-54), who finished the tournament in a blaze of glory by sinking birdies on the last five holes in round three, thus continued his hot streak by sailing to his fourth title in eight months. His previous three wins since December 2018 had come on the PGTI's main tour.
Chandigarh's Akshay Sharma (59) and Delhi's Dhruv Sheoran (61) claimed tied second place at 10-under-153.
With two holes, the third and 12th, being in an unplayable condition, the third round featured 16 holes. Therefore, the par for the course for round three was set at 64.
Two-time Asian Tour winner Rashid Khan, who began the day three shots off the lead in tied seventh place, reserved his best for the last round as he conjured an astonishing eight birdies and an eagle to outperform all his other nearest rivals.
Rashid put together a four-under on the front-nine courtesy an eagle chip-in on the par-5 seventh and two more birdies to launch himself into contention. Khan then set the course on fire with six birdies on the back-nine which included his second chip-in of the day on the par-4 14th. His five other birdies on the back-nine came as a result of some accurate hitting that left him putts within a range of five to 10 feet.
Khan said, "I struck it well through the week. To be honest, I was a little disappointed that we could play only nine holes in round two, as I felt I could've capitalized yesterday had we played a full round of 18 holes.
"I needed a good start today and I got it on the front-nine. I knew making four to five more birdies on the back-nine would put a lot of pressure on the leaders. That plan worked out well for me. Importantly, I made two chip-ins today at very crucial junctures.
"This win really lifts my confidence ahead of the second half of the PGTI season," added Rashid, who also won the PGTI main tour event in Chandigarh in May, the last event on the main tour before the mid-season break.
Dhruv Sheoran, the second round leader by one shot, slipped to joint second place after posting a three-under-61 on Friday.
Akshay Sharma, lying tied third and two off the lead after round two, delivered a five-under-59 on the final day to also end up in tied second place at 10-under-153.
Mumbai's Anil Bajrang Mane (60) secured fourth place at nine-under-154.