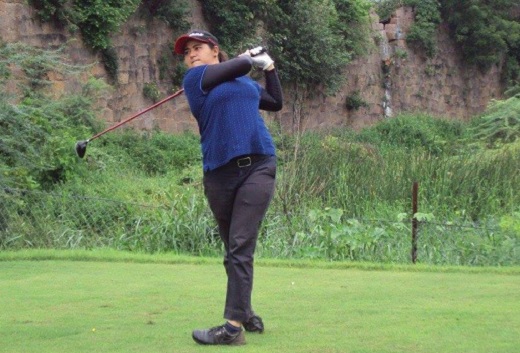 Bengaluru: Amandeep Drall managed to stay on top despite a hat-trick of bogeys right at the end in the second round of the 10th leg of the Hero Women's Pro Golf Tour at the historic Par-70 Bangalore Golf Club. Amandeep, who is still searching for her first win this season, had just one birdie in her round of five-over 75 on a windy day when there were no under-par scores.
Overnight co-leader from the first day, Gursimar Badwal had four bogeys and one birdie in the last five holes for a 77, a day after shooting 67. She dropped to second and two behind Amandeep.
Amandeep had a double bogey on Par-4 second, but a birdie on Par-4 sixth neutralized that. On the back nine, made tougher by the windy conditions, Amandeep bogeyed 11th and three more in a row from 16th to 18th. Her best this season has been second at both the second and third legs and she has been at least Tied-third on four other occasions.
Gursimar had bogeys on second, fourth, sixth and then 10th. In the last five holes, she bogeyed, 14th, 15th, 17th and 18th and in between got her sole birdie of the day on the Par-4 16th.
The day's most intriguing card was from the new pro, Gurjot Badwal, the younger sister of Gursimar. Gurjot, who shot 72 on first day, was on fire on the front nine with four birdies and no bogeys for a four-under 31. However, the back nine saw a complete transformation. On the back stretch she birdied the Par-4 14th, but bogeyed every other hole for eight bogeys and seven-over 42 for the half. Her 73 was still a good score and she was Tied-third with Ridhima Dilawari (74) and Ananya Datar (77).
Shriya Vivek, who recently turned professional in May, recorded the day's best card of 1-over 71. With two birdies and a double in the first half, she turned in at level par. In the second half, her only blemish was a bogey on the Par- 3 13th while she parred the rest.
On Friday, sisters Gursimar and Gurjot will be playing together in the final group with leader Amandeep Drall.
Ridhima, the only player to win three times this year, had a bogey start but birdied second and fourth to turn in one-under 34. On the back nine, she bogeyed 10th and 11th; double bogeyed the Par-3 13th while her only birdie came on the Par-4 15th. She also doubled bogeyed the Par-4 18th for a 74.
Gaurika Bishnoi (74) and Sonam Chugh (75) were Tied-sixth, Afshan Fatima (74) and Neha Tripathi (76) were Tied-eighth and Siddhi Kapoor (77) completed the Top-10.
Amateur Pranavi Urs who shot 78 in the first round withdrew in the second on medical grounds.
Tee times for final Round of 10th leg of Hero WPGT, Bangalore Golf Club:
Tee 1:
8:30 AM : Shriya Vivek 150, Khushi Khanijau 150, Siddhi Kapoor 149;
8:40 AM : Neha Tripathi 147, Afshan Fatima 147, Sonam Chugh 146;
8:50 AM : Gaurika Bishnoi 146, Ananya Datar 145, Ridhima Dilawari 145;
9:00 AM : Gurjot Badwal 145, Gursimar Badwal 144, Amandeep Drall 142;
Tee 10:
8:30 AM : Jyotsana Singh 150, Anisha Padukone 151;
8:40 AM : Mehar Atwal 152, Gauri Karhade 153;
8:50 AM : Ishvari Prasanna 154, Anisha Agarwalla 155, Rhea P. Saravanan (A) 155;
9:00 AM : Anousha Tripathi 155, Smriti Mehra 155, Tavleen Batra 156;
9:10 AM : Suchitra Ramesh 156, Asmitha Sathish (A) 159, Tanirika Singh 164;