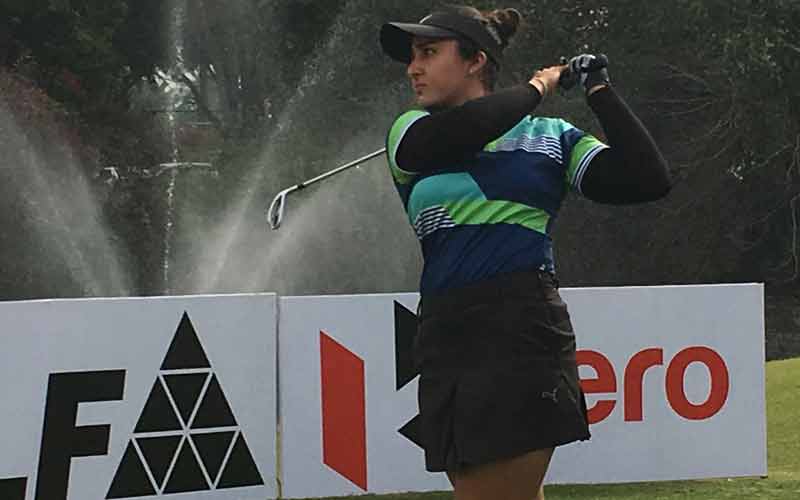 Bengaluru: The Women's Pro Golf Tour stays on in Bengaluru as Ridhima Dilawari, the only three-time winner this season, hopes to extend her winning run on the Hero Women's Pro Golf Tour. While Bengaluru hosts another event, the Tour will feature at a new golf course, the historic Bangalore Golf Club, for the first time ever.
The Delhi golfer Ridhima, who turns 21 in two weeks time, would very much like an early present with two wins in two weeks, as the Hero WPG Tour once again has a Rs.10,00,000 event.
Ridihima will face competition from Gaurika Bishnoi, who was off colour last week, Neha Tripathi and Afshan Fatima, who was runner-up in the previous event at Prestige Golfshire. Amandeep Drall, still looking for her first win this season and Gursimar Badwal will also pose a strong challenge.
With growing competition and increasing prize purses, the contests have become close and the scores lower with each week, bringing in more and more under par scores.
Ridhima will play with two relative newcomers, Anisha Agarwalla and Shriya Vivek, while Gaurika tees up with Oviya Reddi and Suchitra Ramesh.
The field also has three amateurs, the hugely talented Pranavi Urs, Asmitha Sathish, who has time and again sparkled and the young Rhea Saravanan.
Ridhima's wins have come in fourth, sixth and ninth legs and she has won three of her six starts this season. Apart from Ridhima, the other multiple winners this season have been Tvesa Malik and Gaurika Bishnoi with two wins each.
The field has 25 pros and three amateurs and will have a two-tee start with the first tee-offs at 10 am. The only other time a WGAI event has had a two tee start was in the final round of an event in Srinagar in 2015, when the second day was washed out and the players played 36 holes in a single day.
Tee times for Round 1, Leg 10 at Bangalore Golf Club :
Tee 1:
10:00 AM : Pranavi Urs (A), Ishvari Prasanna, Khushi Khanijau;
10:10 AM : Tanirika Singh, Mehar Atwal, Gursimar Badwal;
10:20 AM : Jyotsana Singh, Anousha Tripathi, Siddhi Kapoor;
10:30 AM : Gurjot Badwal, Smriti Mehra, Amandeep Drall;
10:40 AM : Afshan Fatima, Komal Chaudhary, Ananya Datar;
Tee 10:
10:00 AM : Anisha Padukone, Asmitha Sathish (A);
10:10 AM : Tavleen Batra, Sonam Chugh;
10:20 AM : Shriya Vivek, Anisha Agarwalla, Ridhima Dilawari;
10:30 AM : Rhea P Saravanan (A), Neha Tripathi, Gauri Karhade;
10:40 AM : Suchitra Ramesh, Gaurika Bishnoi, Oviya Reddi;