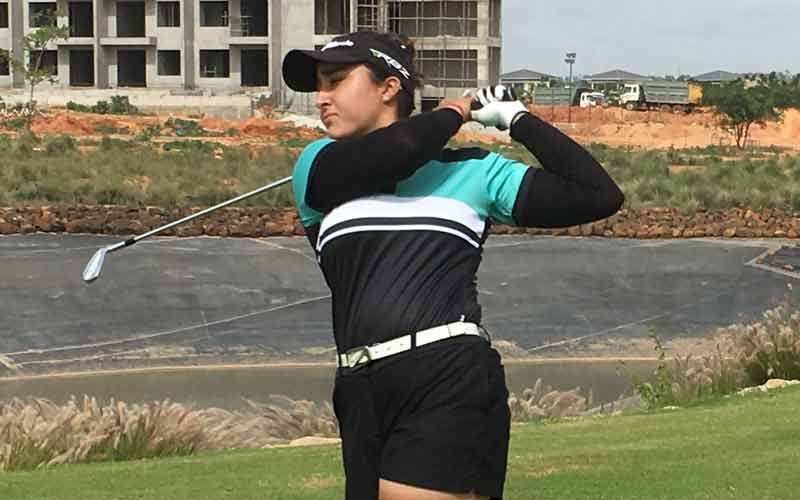 Bengaluru: Ridhima Dilawari, who has already won twice this season, opened up a handy four-shot lead going into the final round of the ninth leg of the Hero Women's Pro Golf Tour. Playing at the challenging Prestige Golfshire layout in strong winds, Ridhima mixed three birdies with two bogeys in the last six holes to card the first under par round of the week.
Ridhima is being chased by Neha Tripathi (77-72) and Afshan Fatima (74-75), while Khushi Khanijau (76-74) was lying fourth and Astha Madan (78-73) was one shot further behind. Gaurika Bishnoi (75-77), who has not found her rhythm this week and Siddhi Kapoor (78-77) were sixth and seventh.
First round leader Amandeep Drall slipped dramatically with an 84 and was tied-eighth with Millie Saroha, while Smriti Mehra (81-76) and amateur Sneha Sharan (81-76) completed the Top-10.
Ridhima, who had an off day on Wednesday, started with a string of five pars and then dropped a bogey. She recovered with a birdie on ninth.
Three more pars followed on the back nine before she had back-to-back birdies on 13th and 14th, but she immediately surrendered these gains with bogeys on 15th and 16th. A superb tee shot on Par-3 17th set up another birdie and she finished with a par on 18th for a 71.
Neha Tripathi played very steadily and after a bogey and a birdie on fourth and fifth, she had pars all the way through for 72, only the second even par round so far in the tournament.
Afshan Fatima had four birdies, three bogeys and two doubles in her three-over 75 and shares the second place with Neha.
Leader Ridhima Dilawari, Neha Tripathi and Afshan Fatima will go out in the lead group in the final round. Ridhima won the fourth and sixth legs, while Neha won the first event of the current season. Afshan has yet to taste victory in 2019.
Tee times final round of 9th leg of Hero WPGT, Prestige Golfshire:
8:00 AM: Oviya Reddi 171, Sonam Chugh 167;
8:10 AM: Ananya Barthakur (A) 166, Ayesha Kapur 166, Gauri Karhade 166;
8:20 AM: Tanirika Singh 165, Ananya Datar 164, Anousha Tripathi 164;
8:30 AM: Jyotsana Singh 163, Rhea P. Saravanan (A) 162, Suchitra Ramesh 161;
8:40 AM: Mehar Atwal 161, Shriya Vivek 160, Ishvari Prasanna 159;
8:50 AM: Gursimar Badwal 158, Sneha Sharan (A) 157, Smriti Mehra 157;
9:00 AM: Amandeep Drall 156, Millie Saroha 156, Siddhi Kapoor 155;
9:10 AM: Gaurika Bishnoi 152, Astha Madan 151, Khushi Khanijau 150;
9:20 AM: Afshan Fatima 149, Neha Tripathi 149, Ridhima Dilawari 145;