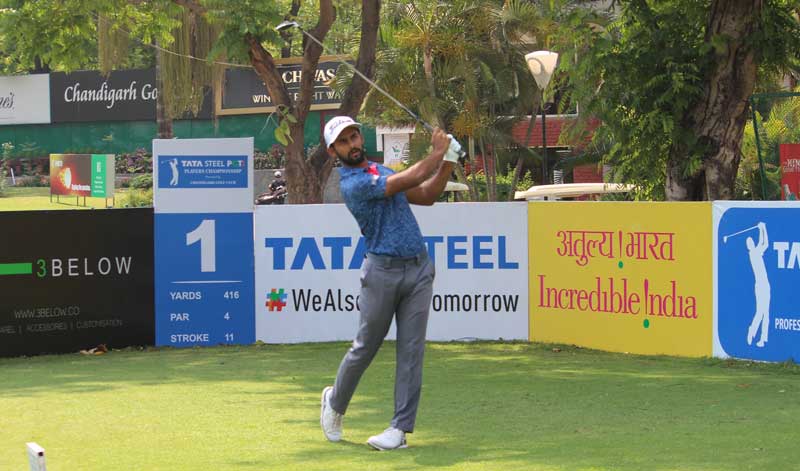 Chandigarh: Bengaluru's Trishul Chinnappa matched the course record of seven-under-65 to take the opening round honours at the TATA Steel PGTI Players Championship Presented by Chandigarh Golf Club.
The 25-year-old Chinnappa joined the likes of Shiv Kapur, Mukesh Kumar, Gaganjeet Bhullar, Gaurav Ghei and Ranjit Singh, as the joint course record holder on Tuesday.
The trio consisting of Patna's Aman Raj, Mumbai's Anil Bajrang Mane and Bangladesh's Md Dulal Hossain were in tied second with scores of five-under-67 at the Rs. 30 lakh event.
Teenager Karandeep Kochhar fired a four-under-68 to be the highest-placed among the Chandigarh golfers in tied fifth.
Trishul Chinnappa, who was one of India's leading amateurs prior to turning professional in 2015, made early gains in round one as he birdied the second thanks to a brilliant bunker shot and then sank a 20-feet birdie putt on the fourth. Chinnappa subsequently picked up a shot each on the fifth and eighth, the latter coming as a result of a chip-in.
The bogey on the 10th was the only blip on Trishul's card as he went on to pocket an eagle on the 13th and two more birdies on the 12th and 16th. Chinnappa, currently lying 34th on the PGTI Order of Merit and still searching for his maiden win, converted his second 20-footer of the day for eagle on the 13th.
Trishul said, "I'm delighted to have equaled my previous career-best score of seven-under. I put myself in good positions today and created a lot of chances. I made up and downs whenever I missed the green. Importantly, I kept myself in play off the tee.
"I believe my good score is a result of the lessons I have learnt from all my past experiences at this venue. I have had some good starts here which I wasn't able to capitalize on. But today was different as I kept the intensity going till the end.
"I've been playing well this season as I've posted three top-20s in seven events and my game has shown promise. The conditions are phenomenal this week and one has to flight it up more here as compared to Panchkula last week."
Anil Bajrang Mane shot his best score in over a year to occupy joint second place. Mane's round of 67 was highlighted by a chip-in birdie on the 10th as well as a great recovery from the trees followed by a 35-foot conversion for eagle on the 13th. He also landed his wedge shots within five feet on the 16th and 18th to set up two more birdies.
Aman Raj, who has top-6 finishes in his last two appearances at the Chandigarh Golf Club, was once again at his best at one of his favourite venues. Aman mixed six birdies with a bogey as most of his putts were less than 12 feet.
Md Dulal Hossain, who also took a share of second, carded seven birdies and two bogeys. He enjoyed a late surge as he closed the round with birdies on the last two holes.
Local lad Karandeep Kochhar knocked down five birdies over the first 13 holes but then had a dramatic end to the day with a double-bogey on the 15th followed by birdies on the next two holes and a bogey on the 18th.
Jyoti Randhawa's first round 70 placed him tied 21st.