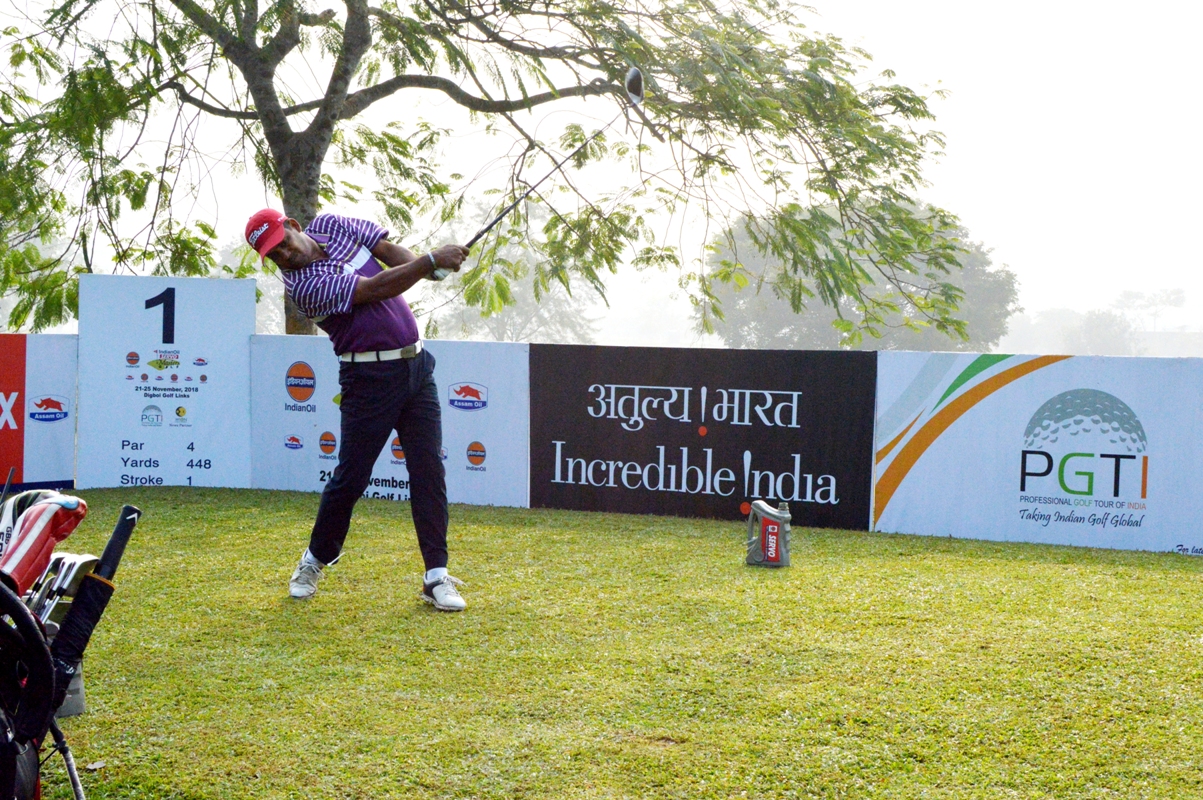 Kolkata's Mohammad Sanju, looking to salvage an ordinary season, took the spotlight on day one of the IndianOil Servo Masters Golf 2018 as he struck an exceptional five-under-67 at the picturesque Digboi Golf Links to take the first round lead.
The trio consisting of Gurugram-based Pranav Kaul, Sri Lankan Mithun Perera and Chandigarh's Akshay Sharma were tied for second at four-under-68.
Mohammad Sanju, currently placed 58th in the PGTI Order of Merit, posted his best score of the season that featured seven birdies and a double-bogey. The 36-year-old, who has posted just one top-20 in his 14 starts this year, used his irons to good effect to set up birdies on the seventh, ninth and 10th.
A couple of poor shots on the 12th saw Sanju drop a double-bogey but he made a brave comeback thereafter thanks to some excellent putting. Sanju picked up four birdies on the last six holes, all from a range of 10 to 15 feet.
Sanju said, "I had a good start as I was par through six holes and two-under through nine. The double-bogey was disappointing but I feel I made a really good comeback thereafter. What worked for me today was the fact that I made a lot of fairways and sank some long putts. In order to perform well here, I need to continue hitting maximum fairways and being sharp with my short-game.
"The course conditions at the Digboi Golf Links have improved significantly over the years. The greens are in very condition now and are rolling well. All credit goes to IndianOil for upgrading this course regularly.
"I've not had a great season so far, so this start gives me an opportunity to make up for that."
Pranav Kaul's flawless 68 included an eagle and two birdies. The highlight of his round was the eagle on the 11th where he recovered from the rough with an outstanding second shot that stopped four feet from the hole.
Akshay Sharma, a winner on the PGTI this year, too fired a bogey-free 68 to take a share of second place.
Mithun Perera produced seven birdies, a bogey and a double-bogey to be in a three-way tie for second place along with Kaul and Sharma. Perera, who kept landing it within a range of five feet, made four consecutive birdies from the 11th through the 14th.
Om Prakash Chouhan of Mhow was placed fifth at three-under-69.
Defending champion Shamim Khan of Delhi carded a 70 to be tied sixth.
Deepraj Chetia posted the best score among the local golfers. His even-par-72 placed him tied 15th. Biren Karmakar's three-over-75 was the next best score among the Digboi-based golfers and it placed him tied 50th.