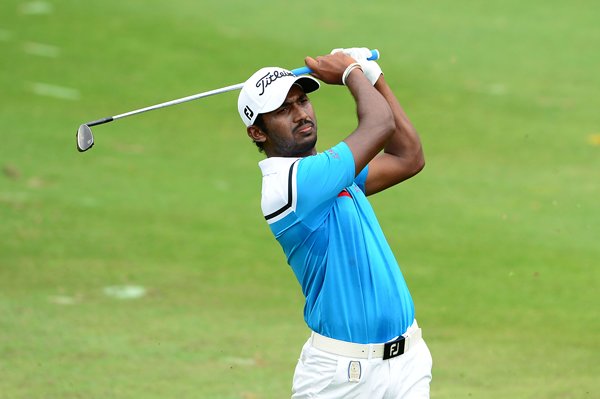 The Jeev Milkha Singh Invitational 2018 presented by TAKE Solutions seems to be heading for a fascinating finale on Sunday as there are a few contenders vying for the title at the Rs. 1.5 crore event.
At the end of a wet and overcast third day, the odds were slightly in favour of Bengaluru's Chikkarangappa S since he produced a four-under-68, the day's best score for the second day in succession, to build a two-stroke lead at 12-under-204. The 25-year-old Chikka will be looking to end a two-year title drought.
Nineteen-year-old Karandeep Kochhar, who fired a 70 on day three to be placed second at 10-under-206, is also in the mix since he will enjoy the lion's share of the crowd support at his home course, the Chandigarh Golf Club, come Sunday.
Gurgaon-based Indian star Jyoti Randhawa, a nine-time international winner and the most experienced player among the top contenders, can't be counted out either as he lurks in third place at eight-under-208 after his third round of 71.
The second round saw three stoppages in play due to lightning which resulted in an overall delay of two hours.
Chikkarangappa (70-66-68), the overnight joint leader along with Karandeep Kochhar, began the day with a bogey on the first and fought back well thereafter just like the previous round. Chikka, a winner of 10 titles including two on the Asian Development Tour, sank birdies on the fourth and fifth but dropped another shot after finding the hazard on the seventh to go back to even-par for the day.
Chikka, who negotiated the wet conditions well, was on song on the back-nine as he knocked down four birdies in succession from the 12th through the 15th to pull ahead of the rest. He converted four to five footers on this stretch and also made a splendid recovery from the trees on the 13th with his seven-iron.
Chikka, whose last victory came at the PGTI's TAKE Open in October 2016, said, "I felt my experience of regularly playing in wet conditions on the Asian Tour paid off. I know how to keep myself calm in such stop and start situations. I have a certain routine for such conditions which I stuck to today.
"I had played 11 holes when the last weather stoppage was announced. When play resumed I felt energized and put together four birdies in a row. That came just at the right time for me. I also had a lucky break when I was in the trees on the 13th. Fortunately, I had a swing there and a little gap through which I could get to the green.
"Unlike the last two rounds, I converted all putts within the five-feet range today. I was also comfortable with my swing.
"A two-shot lead is not much of an advantage. Two bad swings can nullify that lead. so I have to keep striking it well and make those short putts. Karandeep will be a tough competitor as he is playing at home and has been playing well."
Karandeep Kochhar (66-70-70) slipped from the overnight joint lead to second place after his 70 on Saturday. Kochhar, like Chikka, also bogeyed the first. He followed that up with pars on the next 10 holes to be one-over for the day through 11 holes.
Karandeep, who at 17 became the youngest winner on the PGTI back in 2016 while still an amateur, then made a strong comeback on the back-nine with birdies on the 12th, 16th and 17th to reduce Chikka's lead, which was four at one stage, to two shots.
Kochhar said, "I drove better than the previous two rounds today. My putter also came around on the back nine as I sank a couple of birdies from a range of 10 to 15 feet. However, the highlight of my round was the way I fought back on the last seven holes to close the day with a two-under. That has given me a chance.
"I know I'll have all the motivation to win tomorrow as my family and friends will be walking the course and supporting me. That will play to my advantage. I know this course well and if I play to my potential I know I can go low and stake my claim to the title."
Jyoti Randhawa (69-68-71) held on to his overnight third place after a steady round of 71 that featured three birdies and two bogeys. The 46-year-old seasoned campaigner and former Asia No. 1 will be looking to end a six-year winless streak on Sunday. His last win came at a PGTI event in March 2012.
Young guns, Ahmedabad-based Udayan Mane (70) and Patna's Aman Raj (70), are bunched together with Bangladesh's Md Siddikur Rahman (71), a two-time Asian Tour winner, in tied fourth place at seven-under-209 with an outside chance.
Indian star Shiv Kapur (71) is a further shot back in tied seventh along with Sri Lankans Mithun Perera and N Thangaraja.
Khalin Joshi (73), a winner on the Asian Tour last week, is tied 14th at three-under-213.
SSP Chawrasia (72) is in tied 38th place at two-over-218.
Panchkula's Anant Singh Ahlawat, the only amateur to make the cut, occupied 53rd place at eight-over-224.