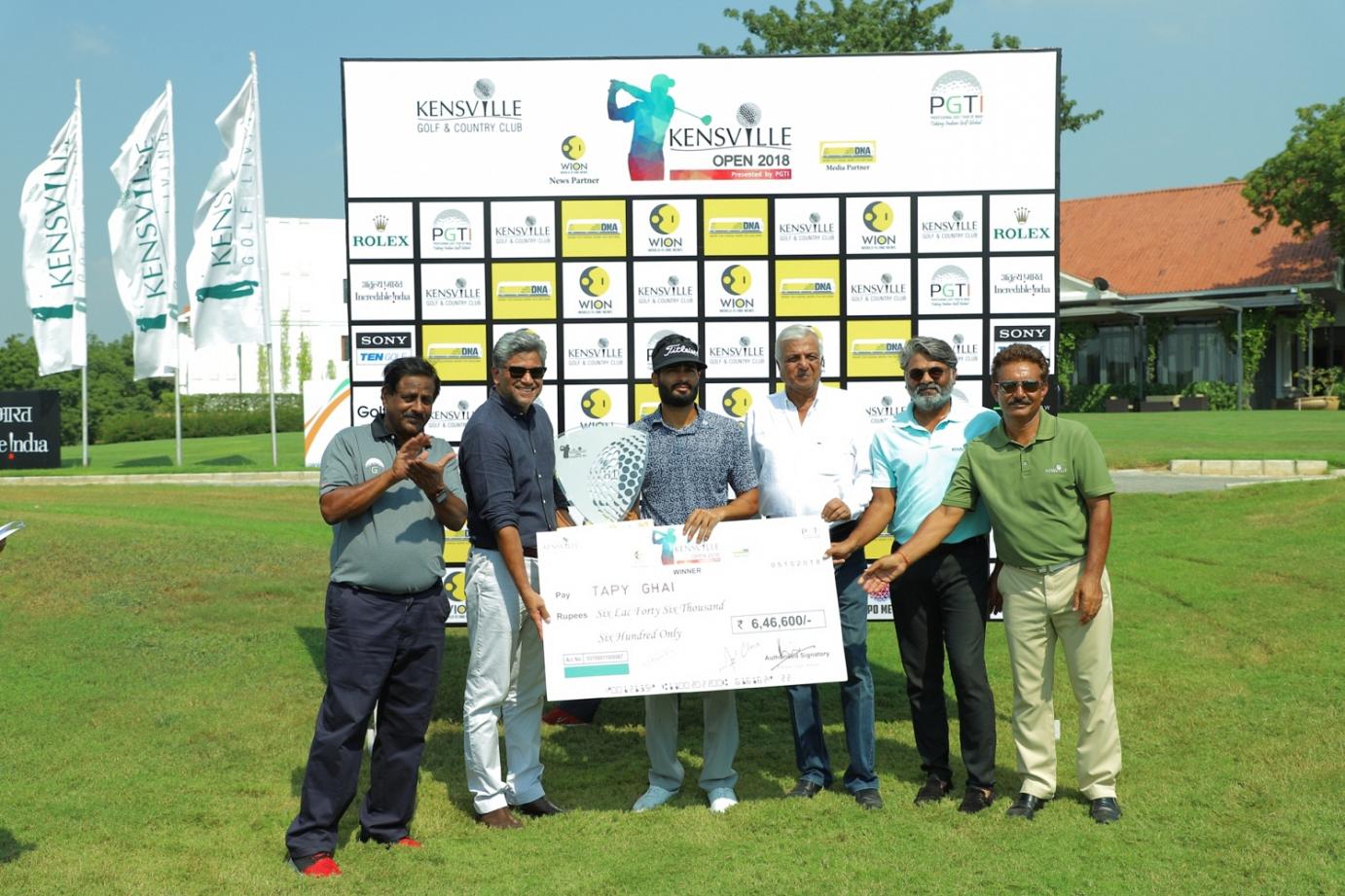 Gurguram's Tapy Ghai produced a fiery last round of 67 to register his maiden win at the Kensville Open 2018 presented by PGTI. The 22-year-old, playing only his second season as a professional, marched to victory with a two-shot margin having totaled 10-under-278 for the week at the Kensville Golf & Country Club.
The seasoned Mukesh Kumar of Mhow finished second at eight-under-280 after a final round of three-under-69 at the Rs. 40 lakh event.
Tapy Ghai (69-70-72-67), lying overnight tied second and two off the lead, produced six birdies and a lone bogey on Friday to turn the tables on his nearest rivals including the likes of overnight leader Akshay Sharma. The win helped Ghai climb from 44th place to 16thplace in the PGTI Order of Merit as he took home a prize cheque of Rs. 6,46,600.
Ghai, who plays at the Classic Golf & Country Club in Nuh, Haryana, struck three birdies on the front-nine including a 45-feet conversion on the ninth to emerge as the prime contender for the title even as third round leader Akshay Sharma dropped down the leaderboard with two bogeys.
Tapy, who posted two top-20s on the PGTI earlier this year, continued to make progress on the back-nine making a hat-trick of birdies on the 12th, 13th and 14th. He sank a 15-footer on the 12th and made an exceptional up and down from the bunker on the 14th.
There was a minor hiccup for Tapy on the 16th as he missed a chip-putt and bogeyed while his playing partner and nearest rival Mukesh Kumar made a long birdie putt to reduce Tapy's lead from four shots to two. However, Ghai displayed nerves of steel to hold on to the lead over the next two holes with some solid hitting and putting.
Ghai said, "I was a little under pressure after that two-shot swing in Mukesh's favour on the 16th. But I felt I handled the pressure well on the last two holes by finding the fairways and greens.
"At the start of the round, I knew I had to grab all my chances today as Mukesh and Akshay were going to be tough competitiors. That's what I managed to do well. After I found the last green with my second shot, I knew the title was in the bag.
"This win has given me loads of confidence. I'm certain that my career-graph will only go upwards from here."
Mukesh Kumar followed up his early bogey on the second with four birdies to finish runner-up at eight-under-280.
Noida's Amardip Malik matched the tournament's best score of 66, shot by Karnal's Maniram in round three, to finish tied third at seven-under-281. Malik shot an eagle, seven birdies and three bogeys during his final round.
Chandigarh's Akshay Sharma, the third round leader by two shots, slipped to tied third place on Friday after shooting a score of 72.