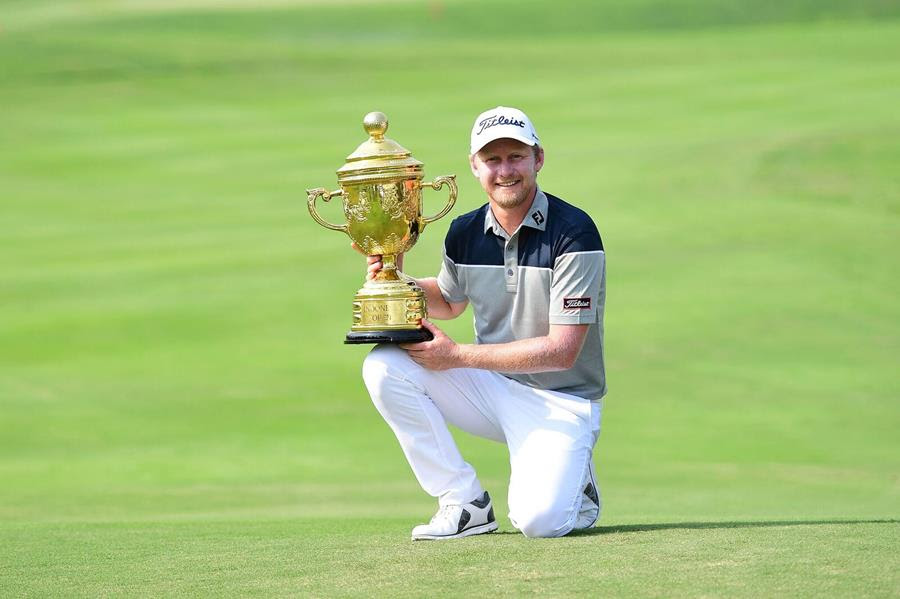 Justin Harding of South Africa put an exclamation point on the closely contested final day, as he carded a one-under-par 71 to win his maiden Asian Tour title at the US$500,000 Bank BRI Indonesia Open on Sunday.
The 32-year-old, who missed only three greens-in-regulation before the final round, uncharacteristically dropped two shots on holes seven and eight. However, he bounced back when it mattered with two birdies before emerging victorious with an 18-under-par 270 total at the Pondok Indah Golf Course.
Zimbabwe's Scott Vincent transferred the pressure to Harding early in the round after firing three consecutive birdies on the second, third and fourth hole. But he lost the advantage after dropping three shots at the sixth, ninth and 10th. He eventually ended the week in second place, his fifth top-10 finish this year.
Thailand's Chapchai Nirat and United States' Sihwan Kim shared third place after carding 68 and 69 respectively. Gaganjeet Bhullar of India is one shot behind the duo, in lone fifth place.
Johannes Veerman (66), who led the tournament after the opening round, ended his tournament with a flourish. He grabbed a share of sixth place, along with India's Udayan Mane and Thailand's Natipong Srithong.
Harding will be taking up Asian Tour membership after his win at the Bank BRI Indonesia Open. The current Sunshine Tour Order of Merit leader was playing in the tournament on an invite.
Who said what?
Justin Harding (Rsa) – Final Round 71 (-1), Total 270 (-18)
It was a hard day today. Perhaps it was a case of nerves, but I was playing for a Tour card and there was a lot of money of the line. I started well and I thought that I can birdie the sixth then I had two bogeys out of nowhere. My last bogey was at the second hole in the first round! I tried to stay patient and keep the momentum going. I aim to hit the greens and statistically, you are bound to make one or two. I made one on the 12th, and that got me going. I was annoyed not to make another one on 14.
I'm a leaderboard watcher as I like to know what's going on. That makes a difference to how I play. The 16th is a tough hole; I played conservatively there the whole week. Today, I hit it inside 10 or 15 feet. I rolled it in, which was crucial as it gave me a one-shot lead.
I hit a good shot at the 18th. I was planning to lag it down there to two inches and tap it in, but I didn't mean it put it four feet past the hole!
I'm thrilled with the victory. I came here not knowing what to expect. I've been playing nicely the whole year. I like the golf course and it was set up quite nicely for me. You can't get too aggressive on it. Manage distances and make some putts here and there. I didn't expect to win, and it was to have done so.
I knew that Scott (Vincent) will come out firing. I thought that I have to finish close to 20-under to have a chance. His time will surely come. If you finish ahead of Scott, then you are going to have a good week. We had a good day out there and I've had a good week in Indonesia.
(About accepting membership for the Asian Tour) I'm glad to have avoided Q-School! I'm looking forward to playing on Tour, but I'll have to look at the schedule and shift some things around. I'm just happy to get an opportunity from the Asian Tour to play here and I'm glad it all worked out fine.
Scott Vincent (Zim) – Final Round 70 (-2), Total 271 (-17)
I can't be too disappointed with the result. I got off to a good start that put some pressure on him. AT the end of the day he came through when it mattered. More credit to him. I'm getting very close to winning for sure.
It was frustrating to give away shots and I gave one too many here. I played the par-fives very poorly today. That is something that I'll be thinking about a little longer. I was probably too aggressive then, especially when I was in the front seat. I still have got a lot to learn from this.
I decided to play an iron on the 18th. I made a birdie in the end so I'm happy with that.
The fans were great! I enjoyed the attention and I'm happy that the fans like me. I'm taking the next two weeks off and recharge for the busy next half of the season.
Sihwan Kim (Usa) – Final Round 69 (-3), Total 272 (-16)
It has been a good tournament for me. I've been hitting it really well. I didn't get the win, but I've tried my hardest and I'm happy with my results.
I bounced back after my double bogey on the fifth with an eagle, which was good. I couldn't hold back, so I just swung with more purpose and it ended up pretty well.
I kept at it throughout the season, which explains the good results. I'm just going to make more putts and I'm sure I can get that victory very soon.
Winning the Habitat for Humanity Standings is an aim. There are a few big events coming up and all it takes is a good finish at a good event.
After this tournament, I realised that I have to putt better. But I've been hitting the ball so well and I'm really proud of myself for that. I'll be heading into future tournaments with even more confidence.
Gaganjeet Bhullar (Ind) – Final Round 68 (-4), Total 273 (-15)
It was a solid round of golf. I made a few good birdies. Most of them were tricky putts.
I was looking at the leaderboard and with that, I kept motivating to get up there. I kept on going. But I still assessed the situation hole-by-hole. For the final few holes, I was particularly aggressive because I was hitting the ball well.
My swing is on the way to being fixed. I see plenty of progressions and the goal is to be really consistent and get to my peak really soon. I'm working really hard to get my ninth Asian Tour title.
Udayan Mane (Ind) – Final Round 70 (-2), Total 274 (-14)
A top-five finish is always great, but I'm not happy about what happened during the middle of the round. The wind affected my play on the eighth. On the ninth, I put myself in a decent position but I three-putted. At the 10th, I hit a good drive down the fairway. Had 120 yards in but I was so upset with my bogeys I skipped my thought process and three-putted. But at 11th, I recovered from a snap hook off the tee with a par. That got my round going.
I'm happy with a top-10 finish. There is so much I can take back home from the way I played this week. I'm close to the winner. I have a blueprint of my scoring capabilities on this Tour.
Johannes Veerman (Usa) - Final Round 66 (-6), Total 274 (-14)
Indonesia is special to me. To play well here in front of family and friends is a huge bonus. This is my third straight top-10. I have finally got my game going. I feel confident and I'm excited for future tournaments.
I learned that Pondok Indah is a good test of golf. The difference between 66 and 72 isn't too much. It's a fine line out here. I hit it really good today and putted well today. I made plenty of long putts, from up to 25 feet. It's funny how golf works.
I revived my old swing thoughts that worked for me previously and it has worked for me now.
Rattanon Wannasrichan (Tha) – Final Round 66 (-6), Total 275 (-13)
I'm very happy to with my good finish to the tournament. I wasn't hitting well yesterday, but all in all, I'm happy with my performance here in Indonesia. I'm now very confident heading into the next event in Fiji.
After playing here, I've learned how to control my emotions even better and not getting angry over bad shots. My drives got a bit wayward over the back nine yesterday, but I overcame the disappointment simply by not thinking about it.