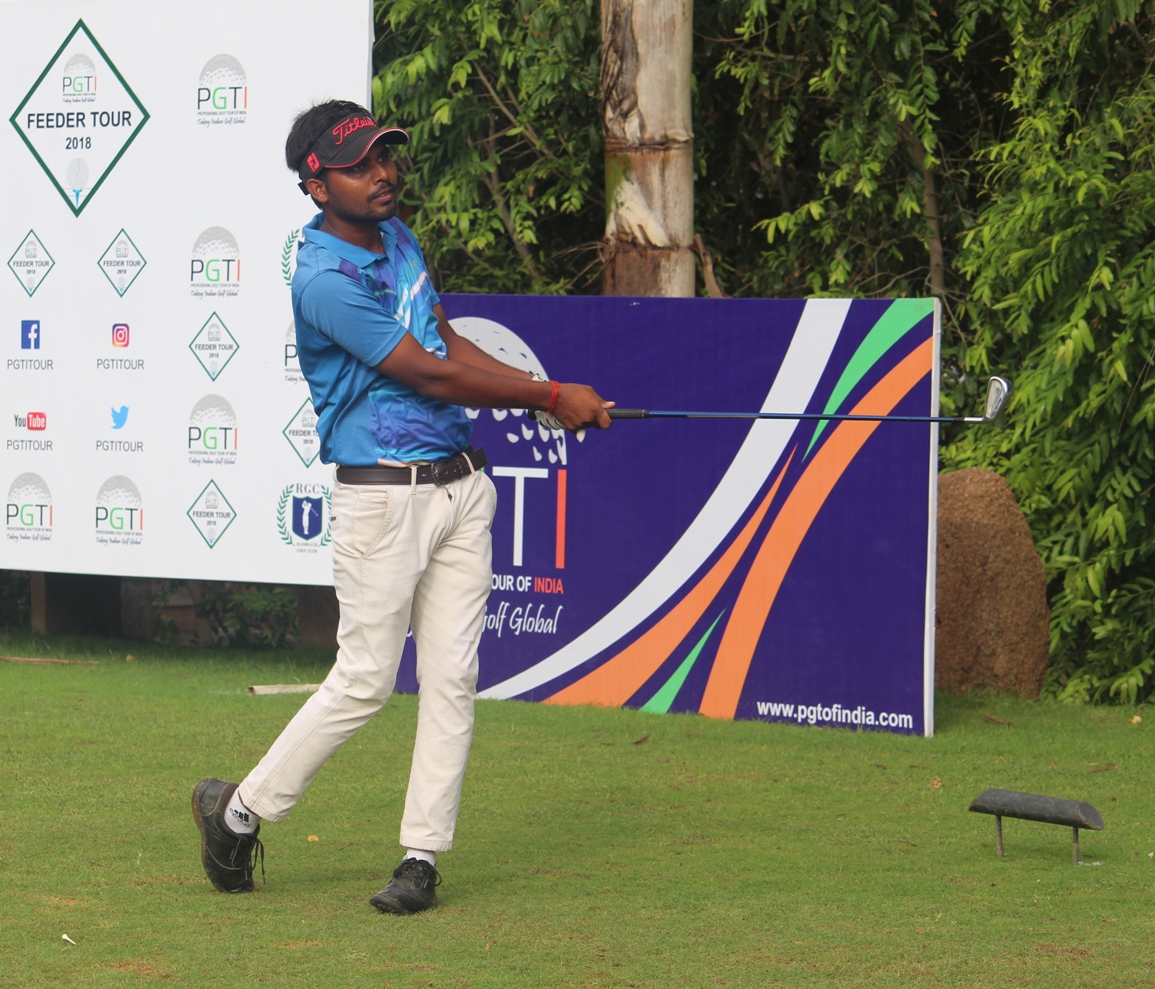 Chandarjeet Yadav of Chandimandir, Haryana, returned the day's joint best score of five-under-65 to seize the second round lead at the PGTI Feeder Tour event being played at the Lucknow Golf Club. Yadav totaled four-under-136.
Lucknow's Amardeep Rawat, playing at his home course, matched Yadav's 65 to end the day one shot behind him in second place at three-under-137.
Chandarjeet Yadav (71-65), who was overnight tied 10th, worked his way to the top of the leaderboard with an error-free round that featured some brilliant chip-putts.
Chandarjeet, currently ninth on the Feeder Tour Order of Merit thanks to his two top-10s this season, capitalized on all four par-5s on Thursday, the third, seventh, 12th and 16th, with the help of his sharp short-game. The 23-year-old, who turned professional in 2015, also sank an 11-footer for birdie on the 11th.
Yadav, fourth in Jaipur last week, said, "Firing 15 greens in regulation made all the difference for me today. In round one, I had fewer regulations and also missed chip-putts from around the green. My hitting and chipping was excellent today.
"I'll now look to repeat today's performance in the final round. I also take this opportunity to thank Lt. Gen. Baljeet Singh from Panchkula who has given me all the support possible since 2015, be it in terms of financial assistance or providing golfing equipment. His encouragement is the reason that I'm being able to play as a professional today."
Amardeep Rawat (72-65), like Yadav, also took a giant leap on day two, as he climbed from overnight tied 10th to second position and thus kept the local interest alive.
The 30-year-old Rawat, currently 10th in the Feeder Tour rankings as a result of one top-10 this season, rallied with six birdies after an early bogey on the second.
Amardeep drained five birdies on the back-nine which included a chip-in on the 13th. He charged within one shot of the lead with two birdies on the last three holes.
Rawat said, "My putting clicked on the back-nine today. I'm well-positioned at the moment and quite confident of my chances in the final round as I feel I have the advantage of local knowledge."
Karnal's Maniram produced an eagle-two during his round of 67 which placed him third at two-under-138.
The three round one leaders, Ashbeer Saini (72), Nur Hossain Sardar (74) and Vishal Singh (75), slipped to tied sixth, tied 13th and tied 16threspectively.
The cut was declared at eight-over-148. Forty-one professionals out of a total of 70 made the cut for the third and last round.
Chandigarh's Rajiv Kumar Jatiwal, who made an albatross in round one, shot a second straight 74 on Thursday to make the cut by one shot at eight-over-148.
Lakshya Nagar of Noida made a hole-in-one on the fourth during his round of 77. However, he missed the cut by two shots.