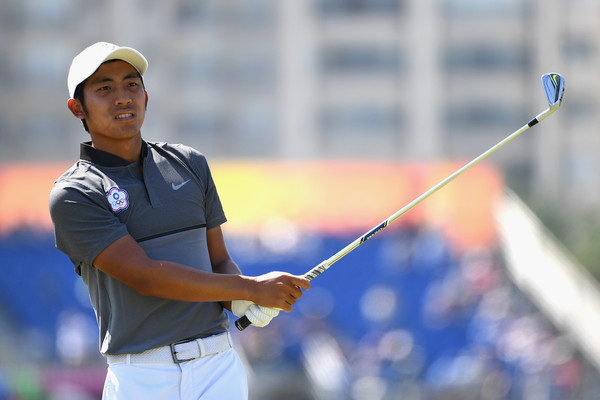 Chinese Taipei's C.T. Pan believes the hard knocks he has taken this year will toughen him up towards his dream of becoming a PGA TOUR champion.
The 26-year-old Pan makes his debut at THE PLAYERS Championship which starts on Thursday knowing that his young career will benefit from the experience of competing against the world's toughest field in the PGA TOUR's flagship US$11 million tournament at TPC Sawgrass.
Featuring in his second season, Pan has recorded four top-25s to be ranked 116th on the FedExCup point standing, a position he is keen to improve with a strong showing this week. He was in contention at the Farmers Insurance Open and RBC Heritage earlier this year but final rounds of 79 and 76 respectively dashed his title hopes and proved to be tough lessons.
"I want to do my best out here this week and try to climb to the top of the leaderboard. I've had some good rounds this year but one big mistake would stop me from being better or from getting into the top-10. I just need to put it together and find a better strategy," said Pan.
A former world No. 1 amateur golfer, Pan, who attended the University of Washington, is prepared to bid his time to succeed on the PGA TOUR. The disappointing finishes were bitter pills to swallow but it has made his resolve even stronger.
"As players, we are always aggressive … we have to be bold to win. We are trying to push as hard as we can but sometimes in the final round, you don't have to as the course is playing so hard and if you take a step back, make bogey on a tough hole, it's no biggie. Sometimes pars are as good. This year, I've had two tournaments which I made big mistakes which really hurt me. I lost a lot of FedExCup points too," said Pan, who finished 88th on the FedExCup standings in his rookie season last year.
Being a rookie at THE PLAYERS, Pan echoed what many players have said about the prestigious event. "Everything here has been off the charts. The golf course is great, it's challenging. I like it a lot as it's not overly long and you've got to hit it straight. It's very demanding on every single shot. Obviously, the last three holes are great holes to finish around here. I'm really looking forward to this. The players talk about this being the fifth major and we all know how hard it is to win this tournament," said Pan.
He remembers well K.J. Choi's historic triumph at THE PLAYERS in 2011, saying it served as an inspiration when he was a junior golfer. Pan will also be hoping to emulate the success of compatriot T.C. Chen, who won the 1987 Los Angeles Open.
"The year that K.J. won here, I was really impressed. He's the first South Korean to win on the PGA TOUR. To see another Asian and the first Korean to win such a big event, it was really inspiring to me. That's the first PLAYERS that I remember well. I want to be the first player from Chinese Taipei to win this big event.
"The three closing holes here are special. 16 is a reachable par five but you can see a lot of drama there as someone can make eagle or easily make double too. 17 is just 145 yards but when the wind blows, when you're under pressure and thousands of fans are watching, all off the sudden, it becomes a 200-yard shot into an island green. Coming down 18, with water on the left on every single shot, it's a tough finishing hole," he said.
With the 2017-18 season having passed the halfway point, Pan knows he must jump on a solid run of results to achieve his goal of qualifying for the FedExCup playoffs and make the top-30 to qualify for the TOUR Championship.
"The goal is still the same, which is to try to finish in the top-30. Obviously I need to play really well from here onwards. I need to get on a good momentum and get the results," said Pan.