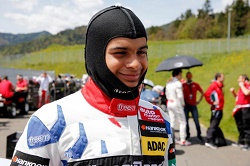 New Delhi: In a move that can be seen as a stepping stone, JK Tyre supported driver Arjun Maini on Thursday announced his GP3 debut at Silverstone (GB) as a driver for Jenzer Motorsport on the weekend starting July 8. Participating in the Formula 1 support race, this move comes after Maini suspended his participation in the FIA F3 European Championship where he was racing with T-Sport.
Racing a single weekend, as of now, Arjun will start his GP3 career with a slight disadvantage with his only testing in the car being at the 40 minute free practice session on Friday, in comparison to the months of practice fellow grid drivers have had access to since December 2015. A main stay on the GP3 circuit, Swiss based Jenzer Motorsport have Arjun on their team for this weekend, while he keeps his options open between FIA Formula 3 Euroseries and the GP3 Circuit while potentially steering towards the GP3 Direction.

Discussing the move, Arjun was extremely excited about the opportunity provided to him and is aware of the challenges ahead of him. "I realise that I will be racing with only 40 minutes of testing under my belt which will be tough but the team has faith in me which is great for my confidence. I am also at my fittest mentally and physically and that I am sure will contribute to a possibly strong race performance on the day." Shared the JK Tyre supported driver, adding, "Compared to the F3, we will need to manage our tyres carefully and work with a good race strategy, which makes this race an even bigger challenge, but a challenge I truly look forward to."

Commenting on Arjun's inclusion in the team, a Jenzer Motorsport Spokesperson shared "Arjun has prepared his mission very conscientiously and we are certain that he will cope very well in his first appearance in what is for him a much more powerful race car than he is used to! "
Round 3 of the 2016 GP3 Series will begin at Silverstone on Friday, 8th July with a single free practice session.

About Arjun Maini
Arjun started his motorsport career in 2006 in karting. After several years in karting he then stepped up in 2013 into Formula cars and was very successful in the Asia Cup Series and JK Racing India Series. In 2014 Arjun made the step to racing in Europe, where he immediately finished as runner up in the BRDC Formula 4 championship. Arjun was also termed " Find of the Season " in his Outing in New Zealand in 2015. Arjun is now looking at a new challenge and is looking forward to experiencing the demanding GP3 Series in the august surroundings of Formula 1.