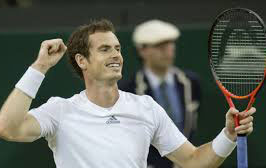 There is no doubt that Andy Murray has the potential to cement his name in the history books of tennis. But call it is bad luck or whatever he has always lived in shadows of Roger Federer, Novak Djokovic , Rafael Nadal (to name some). In recent times he has always been outplayed by Novak Djokovic who was seemed to be having the time of his life until this year's Wimbledon.
Murray has in total picked up two Grand Slams one Wimbledon (back in 2013) and one US Open (back in 2012). At the age of 29 it is quite remarkable , but people always expect more from players. Fans are not wrong in doing so because Murray has shown his talent in these Grand slams. In the recent times he has always been able to reach the final and has been choking up against his opponent at the last hurdle. He seems to give up very early in the finals which is surely not expected from World ranked 2 player. But that is something that his coach seems to working on this year. Under the guidance of Jamie Delgado his performances have been phenomenal. He does not seem to lose his temper and remains calm, which is good for him as earlier he used to lose his temper that resulted in him giving aways points by making errors.
This year's Wimbledon has already given the biggest upset so far. Novak Djokovic was smashed out of the tournament by the 28th seeded Sam Querrey. With Rafael Nadal again missing the tournament due to this injury, everyone are expecting Roger Federer vs Andy Murray final in the most prestigious tournament in the tennis world.
Although the Swiss superstar (Roger Federer) has the better head-to-head record (with the Swiss winning 14 of the 25 encounters between them). It would not be considered as a shock if Murray is able to turn the tables around and win the Wimbledon 2016 because no matter how classy Roger Federer still plays, there is no doubt that his best days are behind him.
With Djokovic out of the tournament, this is the perfect time for Andy Murray to win the Wimbledon. At age of 29 it might just help in bringing out the best of his potential. It is fair to say that Federer won't go down so easily, his experience of winning a total of 88 career titles compared to Murray's 37 career titles is something that Murray will have to overcome to beat the Swiss legend. It will be a match that will be decided either by the extra energy and determination of Murray or by the sheer class and experience of Federer.