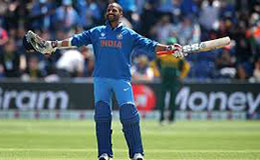 Mumbai: Professional Management Group (PMG), India's first sports marketing company chaired by legendary cricketer Sunil Gavaskar and co‐owned by Sam Balsara and Outdoor specialist Noomi Mehta, has signed Indian cricket's youth icon Shikhar Dhawan for a three year period.
As part of this long term association PMG will now exclusively be looking after Shikhar's brand endorsements and associations, corporate profile, patents and digital rights, with a special focus on image building and reputation management. PMG will provide a focused team working on Shikhar with special emphasis on enhancing his dynamic personality and his connect with youth.
Commenting on the signing, Sam Balsara, Director, PMG & Chairman, Madison World, said, "We are excited to sign up with Shikhar, one of the few batsmen to play across all formats for India. He is one of India's most gifted cricketers with right aggression, competitiveness & consistency. He has made a place for himself with his solid and powerful batting skills. Being an instant crowd favourite, brands would love to associate with such a strong personality in order to project high spiritedness and exuberance amongst their target audience."
Speaking on the occasion Melroy D'souza, Chief Operating Officer, PMG said, "It is a pleasure to have Shikhar onboard as PMG's marquee celebrity signing. Shikhar optimizes hard work, success, consistency, style and game changer, something which today's youth and brands connect to. We are confident that together we will form a formidable partnership with key focus areas being for him to connect more closely with his fans and further develop his brand imagery and portfolio of premium brands.
Shikhar Dhawan too looks forward to an exciting association with PMG. The enormously talented and dashing young cricketer Dhawan says, "In cricket or life, attitude is the key to success. It has always driven me to stand firm and move ahead. I am really excited and looking forward for a crackling association with PMG. PMG has enhanced numerous sportsmen and have successfully promoted Indian sports. I hope to find a perfect connect with PMG and the icon Mr. Sunil Gavaskar."
Dhawan is one of the most sought after players in the Indian side today. The collaboration between PMG and Dhawan has a huge potential to be highly beneficial commercially. And not to forget, Dhawan's USP - the famous moustache twirl is going to add to this fruitful deal.
After signing youngsters like Sarfaraz Khan, Rishabh Pant and Prithvi Shaw, the signing of Shikhar now shows PMG's intent of being serious player in the Player Management vertical. The deal puts Dhawan amongst the league of the richest cricketers in world cricket today. With PMG being the leaders in consulting brands in sports, this will be an extension of their offerings to top brands.