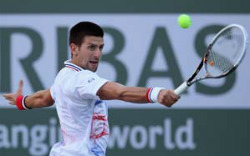 Doha: Novak Djokovic and Rafael Nadal started their campaign to the season opener Qatar ExxonMobil Tennis Open at the Khalifa International Tennis Complex on Monday. However, the first day of this $1,283,855 ATP event brought about contrasting results for the two.
While World No. 1 Djokovic raced past little-known German qualifier Dustin Brown 6-2, 6-2, Nadal would have been romped past in the doubles, but for Fernando Verdasco, who proved to be a saving grace against Russian Teymuraz Gabashvili and his Spanish partner Albert Ramos-Vinolas.
The odds for the Djokovic versus Brown match brought out the stark comparison. A leading website put them to 1.01 : 21.00 at one juncture during the match. And those odds more than summed up the match. In fact, Djokovic was so fast in his demolition of Brown that was getting ready to leave the courts even before the stands were fully occupied.
"Khalas," said a fan, appropriately describing the match that lasted just 51:15 minutes. But Djokovic was far from boastful after the win. "I am excited to be going back to the courts. It's been close to six weeks that I have been away from competitive tennis. You never know how you are going to start from the blocks, so I am glad that I started the season with a good win."
Brown (31), who has not cut his hair for 19 years and wears a tongue piercing, received appreciation from the Serb. "First of all, I think a very charismatic guy, very good for tennis, for sport, and somebody that is unpredictable. Comes up firing with the shots."
"He hasn't served particularly well today, which I think helped me. But again, that's his style: a lot of dropshots, forehand slice, full lights-out forehands and backhands, as well. But again, I knew what was expected in a way, so I think I prepared myself well," said Djokovic about the 82-ranked German who had felled Nadal at the Wimbledon last year.
Earlier, Spaniard Rafael Nadal fumbled, staggered, lumbered and of course grunted, but could not rub off the writing on the wall that had defeat written all over it. Even his partner Fernando Verdasco's patchwork could do little to salvage the match that saw them go down 6-7 (4-6), 6-4, 9-11 to Russian Teymuraz Gabashvili and his Spanish partner Albert Ramos-Vinolas at the Centre Cout.
Russian Teymuraz Gabashvili and his Spanish partner Albert Ramos-Vinolas could have had an easy ride had Nadal not paired up with Verdasco, for the man was far from his best. Even though the scoresheet didn't quite bring out that fact, but clearly Nadal's current form gave the impression of crude oil prices that have been hitting new lows by each passing day.
The first set went down to the tiebreaker before the two Spaniards reigned supreme beating their opponents 7-6 (6-4).
The two started the second set on a more positive note, warding off the cold winds and an equally tough resistance from Gabashvili and Ramos-Vinolas and what's more even lady luck smiled on them, albeit for a few precious moments. That was when Verdasco managed to earn a break in the fourth game (3-1), but the luck soon ran out when Nadal came out to serve. He committed every error in the book and the result wasn't different either, the score line in the second set read (3-2). Soon it became 3-3 and it was only a matter on moments before a deep voice announced, "Game from Gabashvili and Ramos-Vinolas." Nadal and Verdasco had lost the set 4-6.
The third set was stretched on for rather long before it became apparent that Nadal would have to pull up his socks if he were to aim for an encore of 2014.
However, Nadal more than made up for the loss during the press conference. "My priority is singles, my motivation is singles."
"I am a singles player," said the World No. 5, with an air of conviction.
And for his doubles form he was curt. "Well, I have been winning here a lot of years (in) doubles, so hopefully that's the good news that I lost this time in doubles that I hope to be ready for singles. Today's match was a match that we had a lot of chances and was not the day to win. And that's it."
Results
Singles
Novak Djokovic bt Dustin Brown 6-2, 6-2
Jeremy Chardy bt Mubarak Shannan Zayid 6-1, 6-1
Damir Dzumhur bt Marco Cecchinato 6-4, 6-2
Kyle Edmund bt Martin Klizan 6-2, 6-3
Doubles
Teymuraz Gabashvili / Albert Ramos-Vinolas bt Rafael Nadal / Fernando Verdasco
6-7 (4), 6-4, 11-9
Jeremy Chardy / Paul-Henri Mathieu bt Jabor Mohammed Ali Mutawa / Malek Jaziri 6-2, 6-2
David Marrero / Andreas Seppi bt Pablo Andujar / Leonardo Mayer 7-6 (4), 6-3