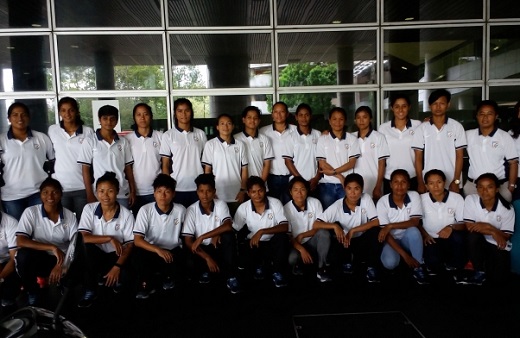 New Delhi: The Indian Senior Women's Team arrived in Kuala Lumpur today (July 27) morning to play two back to- back International Friendlies against Malaysia. Both the matches have been arranged by the All India Football Federation to provide more exposure to the Indian Senior Women's Team.
The first match is slated for July 29 while the second one is to be played on July 31. The Team headed to Kuala Lumpur on the back of a 12-day Camp in Delhi.
Head Coach Maymol Rocky, the first-ever Woman Coach of an Indian Senior National Team informed that the entire squad is "looking forward to the two matches."
"The two matches will provide the girls valuable match experience which will help them in the future. An International match adds to your confidence and the entire squad is looking forward to it," she said. "I need to thank the AIFF for the two International Friendlies. Women's Football in India has been on a high with the inaugural edition of the Indian Women's League being a huge hit earlier this year," she added.
"That has added to the confidence of the girls as well." Striker Bala Devi, who has been declared the Captain rated Malaysia as a "strong opponent." "They are a strong team. But we need to play better than them, and we will try our best," she stated. "We have practiced very hard and are raring to go."
"It's nice to be training under Maymol-Ma'am. Though there is always that comfort level with her, she has always been a hard task master. But we are not complaining as we understand that she wants us to be better players." "The two matches will help us immensely and I need to thank the AIFF for providing us such an exposure tour," she added. Meanwhile, Ashalata Devi has been named the vice-captain.
The 22-member squad is as follows:
GOALKEEPERS: Panthoi Chanu, Roshini Devi.
DEFENDERS: Ashalata Devi, Manisa Panna, Umapati Devi, Dalima Chhibber, Radharani Devi, Jabamani Tudu, Tony Devi.
MIDFIELDERS: Premi Devi, Prameshori Devi, Lochana Munda, Sanju, Mandakini Devi, Ritu Rani, Bindyarani Devi.
STRIKERS: Bala Devi, Kamala Devi, Anju Tamang, Dangmei Grace, Pyari Xaxa, Kashmina.