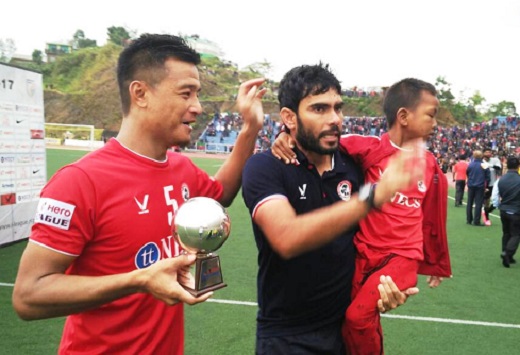 NEW DELHI: As Aizawl FC embark on their final mission needing a draw to land their maiden Hero I-League title in their final match against Shillong Lajong FC, Head Coach Khalid Jamil, in an effort to keep his boys free from the tension is willing to soak in all the pressure himself.
"Kuch jitne ke liye kuch khona padta hai, aur maine toh bahut kuch khoya hai" (To accomplish something you have to lose something else and I have lost a lot till now), was Khalid's expression.
On being reminded of his rival counterpart Thangboi Singto's quote that 'Lajong won't allow Aizawl FC to walk away with the title,' Khalid smiles. "Yeah, that's Football. Why will they allow us to run away with the title? We have to fight for every inch and we will," he quips.

"Nobody spared a word for us at the starting. We have seen the league through thick and thin and finally, we're down to here," he added.

"Mera players hamesha Dil se khelta hai (My players always play from their heart). They never shy away from doing something which they love. Aizawl players love playing football, they don't alienate themselves from doing that," the ex-National Team midfielder echoed.

He stresses that "being the better Team doesn't matter much; rather all that matters if playing better on that day."

"We beat Mohun Bagan; we also beat East Bengal. But that doesn't mean we are better than them. It just means that on that day we might have played better Football than them. We churned out the result which was important for us," he stated.

"I never ever dreamt of this day. Boys are enjoying it right now. I don't want to spoil their mood now but we still need one point. We can't afford to leave it loose until we grab it," Khalid sounded philosophical.

'Can we let it slip?' he queried himself, only to answer himself: "There can't be any margin of error. We need to get the job done. We can't afford to let it slip."

Khalid doesn't deny that it will be tough without Ashutosh Mehta and Alfred Jaryan, both of whom are suspended receiving four yellow cards. "It will be very tough without Alfred & Ashutosh. But we can't just sit and think over their suspension. We have to find out how we'd overcome this. I trust my entire team and we will try to get Lajong's skin," he pronounced.