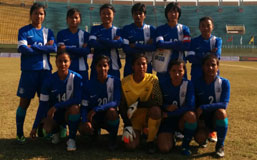 India were held to yet another goalless draw, this time by a resilient Nepal side when they locked horns on Thursday in a South Asian Games women's football match at the Jawaharlal Nehru Stadium. The evenly matched contest saw shots being fired on either half but all attempts eventually went in vain as the match ended 0-0 by full time.
India's key forward Grace Dangmei was carried out on a stretcher after suffering an injury sometime around the 38th minute before being replaced by an impressive Bala Devi who was in the thick of action especially in the latter half.
India's biggest challenge of the tournament Nepal looked threatening and came close to scoring on several occasions. Their first clear cut chance was in the 20th minute when Sabitra Bhandari headed a ball that was saved by India's goal keeper Aditi Chauhan. Chauhan and her Nepalese conterpart Lila Lamgade were both impressive kept busy for most part of the match.
Three minutes after the restart, Nepal's Niru Thapa's free kick after an Indian foul nearly found the top of goal but an acrobatic Chauhan was able to make an excellent save. In the 52nd minute, super sub Bala Devi came close to placing India in the lead with a rocket of a shot that whizzed just over the bar.
Again, in the 74th minute Nepal almost seized the decisive goal after a header by skipper Anu Lama. Dipa Adhikari crossed from the far left flank for Lama to head past Aditi Chauhan but the ball found the post to deny Nepal yet another goal. For India, their last chance came in the 90th minute when Pyari Xaxa failed to convert a cross by her team mate Sasmita Devi.
At the post match conference, India coach Sajid Yusuf Dhar said that Nepal was always going to be a tough opponent but now they can only look forward to winning against Bangladesh as the result for that match will decide which country plays the final.
Nepal's coach Dhruba Bahadur said that his girls changed to a defensive mode in the second half which allowed them a point and subsequently, an entry into the South Asian Games women's football final. "India played well. This was our first drawn match but we are happy to make it through to the final," Bahadur said.
India face Bangladesh in what will be the last match for both nations on Saturday to decide which team will face Nepal in the final. Meanwhile, Sri Lanka and Maldives are virtually out of the tournament.