It is nearly 48 years since the inception of One Day Internationals, for more than half the three decades since its beginning this particular feat was conceived to be an unconquerable peak, it was then that the first man on planet reached the double hundred in ODIs at Gwalior, it was none other than Sachin Tendulkar. Within the next six years, 6 more ODI double hundreds were scored, and 3 of them have come from the bat of Rohit Sharma alone, 2 more than all the other batsmen who got to this feat.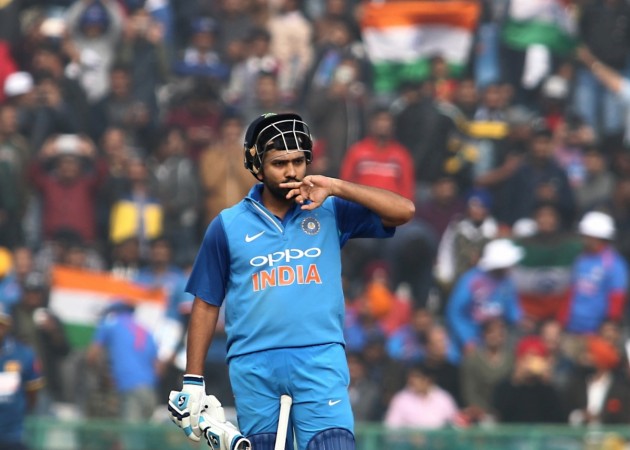 The most beautiful part of Rohit's batting is the way he paces his innings. His understanding of his own game has enabled that kind of feature in his batting. For the first few overs Rohit Sharma is extremely cautious, scoring only off the lose deliveries and more than happy to leave the balls in the corridor of uncertainty, in the middle overs is his accumulation avatar and come the last 10 overs: Beast Mode Activated, where Rohit comes to his own scoring boundaries at will and all that with the same lazy elegance that is so essential a characteristic of Rohit Sharma's innings.
That Rohit can follow his go to plan and his fixed routine again and again with incredible success is an indication of his precise approach to ODI cricket and his physical and mental fitness which helps him to go on after he has scored a hundred. Rohit now has the most number of 150+ scores, joint most by any batsman along with David Warner and Sachin Tendulkar, 3 of them have been converted to double hundreds.
The Mohali ODI was not the only time when Rohit shifted gears so rapidly, after 126 balls of his inning Rohit had managed only 116 runs, but for his last 27 balls Rohit managed 92 runs more than compensating for the balls he had consumed for no runs in the beginning. An analysis of his 16 centuries now, reveal the following stat: strike rate of 80 till he reaches 50, strike of 94 when he reaches 100, and an unheard strike rate of 184 and above when he is scoring those daddy hundreds. Rohit Sharma makes it look all so easy at the end.
Each one of the three double hundred though has a different tale to go with it. The first one at Bangalore in 2013, was the series decider and India had to win the match to win the series. While Shikhar Dhawan was dismissed early and Virat got run out while batting with Rohit, all eyes were on Rohit to score big and boy he did score big, a fantastic 209. His second double hundred against Sri Lanka at Kolkata came when Rohit was making a comeback to international cricketafter his finger injury, and Rohit was desperate to get some runs under his belt. After a really slow start, Rohit made the highest individual score in limited overs cricket and made his opportunity count big time. At Mohali again, in his first series as a captain, India were 1-0 down and it was a must win match to stay alive in the match. Questions were being raised regarding India's batting after India were bowled out for just 112 in the first ODI and in comes the skipper leading by example, Rohit gave a fabulous gift to his wife on their wedding anniversary, his third double hundred, his first that his wife Ritika witnessed live from the stadium and his second double hundred against Sri Lanka.
For all the consistency and numbers that the Sachins and Virats may provide, it is the sight of Rohit Sharma's seemingly effortless sixes that make the game as beautiful as it is. Rohit is certainly a class apart when it comes to ODI cricket and his third double hundred will put him in the right frame of mind ahead of the South Africa tour.
---