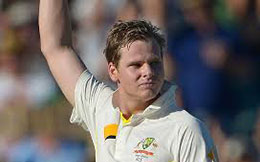 Talk about dominating cricket in red ball format and former Australia captain Steve Smith's name will inevitably come in the same sentence. It has to. It must. Steve Smith scored a scarcely believable 774 runs in the recently concluded Ashes series at an average of more than 110 including three centuries and three half-centuries.
What's more, he did not even play three innings of the Test series because of concussion. It could now be imagined the possibilities if Smith had played those three innings what would have been his tally after the Test series and whether he would have broken Sir Don Bradman's record of most runs in a single series- 974 runs which had also come in the Ashes Series of 1930.
However, leaving the number game aside, it is the situation which makes Steve Smith's class in the Ashes more prominent. England wasn't the most batting friendly condition and neither was the bowling attack of England which had the added advantage of new pacing sensation Jofra Archer. In the same series in which, Smith managed to score nearly 800 runs, David Warner failed to reach 100 runs and that tells you how difficult it was to face the red ball.
And it wasn't just that. Steve Smith was fighting against himself. He was fighting a mental battle. He was returning to Test match cricket after facing a ban and was being booed and even abused in stadiums across the world. However, that didn't matter as long as he let his bat do the talking. And each run mattered to the team and Smith was a man on a mission not save and help his team retain the Ashes not just achieve individual milestones along the way.
Smith might not be the most elegant batsman to watch in International Cricket. He might at time be irritating to watch but is damn effective as can be seen from his phenomenal record in International Cricket.
He goes across the line to play shots on the leg side and he does that over and over again without missing a ball which would catch him plumb in front of wicket. He is a good cutter and puller too and he leaves the ball well as well. But the most elegant of strokes, the drives on the off side, are perhaps his underutilized ones and maybe his weakest because of the initial movement towards the off side.
There are people who believe in religiously following the textbook technique to succeed in sport. Perhaps that sect may have never predicted Steve Smith to be a successful batsman because he was far from being one textbook, orthodox conventional cricketer.
Smith may look odd while batting but has achieved success by embracing his own flaws and perfecting them rather than imitating someone else.
It is only irony that such a master of his art will forever be associated with one of Cricket's most shameful incident- the sandpaper gate incident.