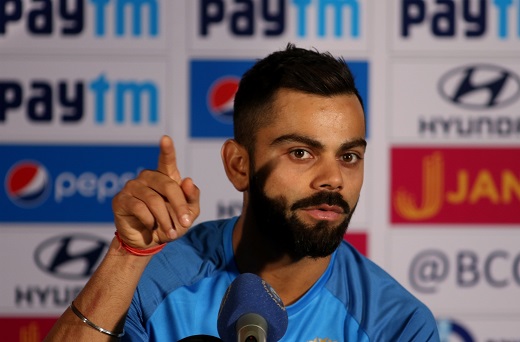 Bengaluru: David Warner scored a hundred in his 100th ODI, while Aaron Finch hit 94 to set India a total of 335 to win in the fourth ODI played at M.Chinnaswamy Stadium, Bengaluru on Thursday. Though India seemed to be on the right course for most part of their chase, the Australians pacers bowled well in the later part of the game while their fielders complimented them on the field and denied India a win.
Speaking about the loss, Indian skipper Virat Kohli said that at the 30-over mark they were going pretty strong, but India needed one more big partnership to chase 330. "I thought it would be a great effort to restrict them to under 350 and we did that. We were pretty optimistic. We got a pretty good opening partnership. But we needed one big partnership chasing 330, which we didn't get. People have off days. Umesh and Shami bowled well. They were getting the ball to reverse in their second spells. The spinners won't always have good days. Sometimes you have to sit back and say the opposition played well. The only respite for the fast bowlers was taking the pace off the ball - it was pretty close to the old Bangalore wicket," he said.
Meanwhile, Australian captain Steven Smith said that Aaron Finch and David Warner were spectacular at the top. "It's nice to get a win in. Aaron Finch and David Warner were spectacular up top. They hit the boundaries when they wanted to and set us up to get 330. Thought we were having one of our little collapses, but Peter Handscomb batted well to get us up to 330. I thought we were a little bit too wide with the new ball. We could have been straighter, but the bowlers pulled it back nicely towards the back end," said Smith.
David Warner, who was Player of the Match, said: "It feels fantastic. Winning this game tonight has put a great smile on our face. It's been tough for us on the road lately. A few misdemeanours back in the day, so didn't get my chance. Getting to play in India, and play my 100th ODI, is pretty special. Winning, you gain some momentum, and the way the guys played with the bat today was fantastic."