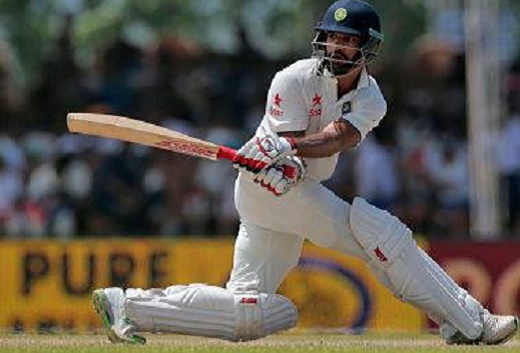 Openers Shikhar Dhawan and Lokesh Rahul have attained career-high positions in the MRF Tyres ICC Test Player Rankings after figuring in an important partnership that helped India defeat Sri Lanka by an innings and 171 runs to complete a 3-0 rout of the home side.
Left-hander Dhawan, who top-scored with 119 in in the final Test in Pallekele, has moved up 10 places to 28th position after India won inside three days on Monday. This was the Delhi batsman's second century in three Tests as he finished with 358 runs and was named player of the series.
Rahul has moved up two positions to equal his career-best ninth position after a contribution of 85 in the opening stand of 188 that came in under 40 overs. Rahul has thus equalled his career-best ninth rank attained in July this year but the present tally of 761 ratings points is his highest till date.
All-rounder Hardik Pandya's 96-ball knock of 108 has seen him gain 45 positions to reach a career-best 68th rank among batsmen, while pace bowlers Mohammad Shami (up one place to 19th position) and Umesh Yadav (up one place up to a career-best 21st position) have gained among bowlers.
There was good news for Chinaman bowlers too as India's Kuldeep Yadav and Sri Lanka's Lakshan Sandakan have made rapid strides. Kuldeep Yadav, coming in for Ravindra Jadeja, has moved up 29 slots to 58th place after returning figures of four for 40 and one for 56, while Sandakan's haul of five for 132 has helped him gain 16 places to reach 57th position.
Other Sri Lanka players to move up in the rankings include batsmen Dinesh Chandimal and Niroshan Dickwella. Chandimal has gained two slots to reach 33rd position while Dickwella has gained seven slots to reach a career-best 61st position.
In the list for all-rounders, Jadeja has lost the top slot to Bangladesh's Shakib Al Hassan after missing the Pallekele Test owing to a one-match suspension after accumulating six demerit points inside a 24-month period. Jadeja has slipped one point behind Shakib's tally of 431 points but remains at the top of the bowling rankings.
Top-ranked India and seventh-placed Sri Lanka have retained their positions in the team rankings with India gaining two points to reach 125 points, increasing its lead over South Africa to 15 points.
Meanwhile, England hosts the West Indies for a three-Test series starting Thursday, which it may have to win in order to remain in third position, depending on the results of a two-Test series between Bangladesh and Australia that starts later this month but ends earlier on 8 September. Australia will go up to 101 points if it wins the series 2-0.
The Test team rankings, unlike the ODI and T20I rankings, are updated after the end of the series and the Test predictor function is available here.
Series scenarios:
England wins 3-0 – England 107 points; West Indies 72 points.
England wins 2-0 – England 106 points; West Indies 74 points.
England wins 1-0 or 2-1 – England 105 points; West Indies 75 points.
West Indies wins 1-0 or 2-1 – England 100 points; West Indies 82 points.
West Indies wins 2-0 – England 99 points; West Indies 84 points.
West Indies wins 3-0 – England 98 points; West Indies 85 points.
Series schedule:
17-21 August – 1st Test, Edgbaston
25-29 August – 2nd Test, Headingley
7-11 September – 3rd Test, Lord's
Rank Team Points
1 India 125 (+2)
2 South Africa 110
3 England 105
4 Australia 100
5 New Zealand 97
6 Pakistan 93
7 Sri Lanka 90 (-1)
8 West Indies 75
9 Bangladesh 69
10 Zimbabwe 00
(Developed by David Kendix)
MRF Tyres ICC Test Player Rankings (as on 15 August, after the third and final Test between Sri Lanka and India in Pallekele):
Batsmen (top 10)
Rank (+/-) Player Team Pts Avge Highest Rating
1 ( - ) Steve Smith Aus 941! 61.05 941 v Ind at Dharamsala 2017
2 ( - ) Joe Root Eng 891 53.21 917 v Aus at Trent Bridge 2015
3 (+1) K. Williamson NZ 880 51.16 893 v Aus at Perth 2015
4 (-1) C. Pujara Ind 876 52.65 888 v SL at Colombo (SSC) 2017
5 ( - ) Virat Kohli Ind 806 49.55 895 v Ban at Hyderabad 2017
6 (+1) Jonny Bairstow Eng 772! 41.26 772 v SA at Old Trafford 2017
7 (+1) Azhar Ali Pak 769 46.86 787 v Aus at Melbourne 2016
8 (+1) Hashim Amla SA 764 49.00 907 v Pak at Abu Dhabi 2013
9 (+2) Lokesh Rahul Ind 761*! 46.27 761 v SL at Pallekele 2017
10 (-4) Ajinkya Rahane Ind 760 47.61 825 v NZ at Indore 2016
Other selected rankings
Rank (+/-) Player Team Pts Avge Highest Rating
28 (+10) S. Dhawan Ind 612! 43.38 612 v SL at Pallekele 2017
33 (+2) D. Chandimal SL 603 41.00 692 v Aus at Colombo (SSC) 2016
61 (+7) N. Dickwella SL 458*! 30.89 458 v Ind at Pallekele 2017
68 (+45) H. Pandya Ind 428*! 59.33 428 v SL at Pallekele 2017
Bowlers (top 10)
Rank (+/-) Player Team Pts Avge Highest Rating
1 ( - ) R. Jadeja Ind 884 23.60 899 v Aus at Ranchi 2017
2 ( - ) J. Anderson Eng 860 27.90 884 v SL at Durham 2016
3 ( - ) R. Ashwin Ind 852 25.26 904 v Eng at Mumbai 2016
4 ( - ) J. Hazlewood Aus 826 25.39 863 v Ind at Bengaluru 2017
5 ( - ) R. Herath SL 809 28.25 867 v Zim at Harare 2016
6 ( - ) K. Rabada SA 785* 24.56 821 v SL at Johannesburg 2017
7 ( - ) Stuart Broad Eng 775 28.64 880 v SA at Johannesburg 2016
8 ( - ) Dale Steyn SA 763 22.30 909 v WI at Centurion 2014
9 ( - ) V. Philander SA 751 22.45 912 v Ind at Johannesburg 2013
10 ( - ) Neil Wagner NZ 745 28.90 767 v SA at Dunedin 2017
Other selected rankings
Rank (+/-) Player Team Pts Avge Highest Rating
19 (+1) M. Shami Ind 618*! 30.87 618 v SL at Pallekele 2017
21 (+1) Umesh Yadav Ind 576*! 35.93 576 v SL at Pallekele 2017
57 (+16) L. Sandakan SL 295* 30.55 319 v Aus at Galle 2016
58 (+29) Kuldeep Yadav Ind 293*! 20.77 293 v SL at Pallekele 2017
All-rounders (top five)
Rank (+/-) Player Team Pts Highest Rating
1 (+1) S. Al Hasan Ban 431 443 v NZ at Christchurch 2017
2 (-1) R. Jadeja Ind 430 438 v SL at Colombo (SSC) 2017
3 ( - ) R. Ashwin Ind 422 493 v Eng at Mohali 2016
4 ( - ) Moeen Ali Eng 409! 409 v SA at Old Trafford 2017
5 ( - ) Ben Stokes Eng 360 /* 362 v SA at The Oval 2017