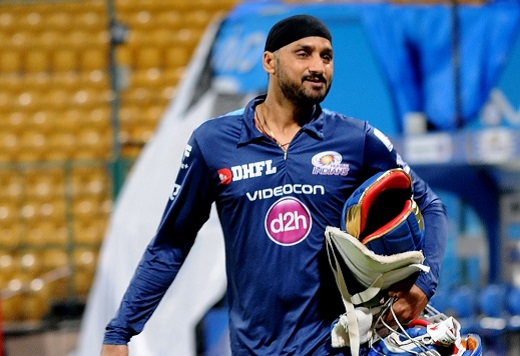 New Delhi: Asserting that India has the edge in their Champions Trophy game against Pakistan, veteran off-spinner Harbhajan Singh said on Saturday that the team which handles pressure better will emerge triumphant.
India and Pakistan will start their campaign in the Champions Trophy with a much anticipated Group B clash in Birmingham on Sunday.
Although Harbhajan felt that Indian players are under more pressure while playing Australia or South Africa, a match against Pakistan is still a special occasion.
"At the international level, there is pressure before any game. I would say that there is now more pressure when we face South Africa and Australia or even England for that matter. These teams worry us more than Pakistan. There is always pressure. If there is no pressure, you will be over-confident.
"Having said that, an India-Pakistan game does get treated differently," Harbhajan wrote in his column on the official website of the International Cricket Council (ICC).
"At the end of the day, an India-Pakistan game has got more to do with pressure than anything else. The team that handles the 'P-factor' better on the day is more likely to win.
"Simply put, the team that doesn't crack under pressure on the field will come out on top. I'm confident that India will win on Sunday because it has a far superior line-up," he added.
Pointing out that the current Pakistan squad is not as awe inspiring as the earlier cricketers, Harbhajan asserted that the Indian players are better at coping with pressure.
"Over the years, India has learnt how to deal with pressure. And this isn't just against Pakistan. In any case, the Pakistani team of the day is no match for its teams of the past. There was a time when Wasim Akram, Waqar Younis, Saqlain Mushtaq, Saeed Anwar, Inzamam-ul-Haq and Mohammad Yousuf used to play in the same team!
"I haven't seen too many youngsters capable of handling pressure in the current Pakistani set-up," the 36-year-old said.
"That said, I quite like Sarfraz Ahmed, the wicketkeeper-batsman. Also, their batting isn't anywhere close to what South Africa (AB de Villiers and Faf Du Plessis) and India (MS Dhoni, Virat Kohli, Ajinkya Rahane and Rohit Sharma) can boast of."
The off-spinner however, warned that the Indian players should be wary of a couple of senior batsmen in the Pakistan line-up apart from fast bowler Mohammad Amir.
"When it comes to the 'danger-man' in their squad, I think Shoaib Malik is one player who plays spin really well. Once he gets used to the conditions, he can take on any bowler, be it a spinner or a fast bowler," he said.
"The other player to watch out for is skipper Sarfraz because he is very intelligent. In the bowling department, Pakistan has Mohammad Amir. India needs to play him carefully, especially when he's armed with the new ball."
Harbhajan, who had been a part of quite a few battles with Pakistan in the past, opined that the victory over the arch-rivals in the semi-finals of the 2011 World Cup was the most memorable encounter for him.
India had defeated Pakistan by 29 runs in Mohali before gong on to beat Sri Lanka in the final.
"I remember the India-Pakistan semi-final in the ICC Cricket World Cup 2011. I didn't sleep the night before the match because I was constantly thinking about what people would say and how they would react if we were to lose," Harbhajan recalled.
"I remember telling a few people to keep vigil outside my home so that the crowd doesn't break anything should things not go our way. One does think about such things too. The Prime Ministers of both countries were coming to watch the game. There were a lot of celebrities and top personalities in the stadium just to watch the two teams clash. But once you step on to the field, you forget who is watching you. All you want is to win the game.
"People expect a lot more from you when you play Pakistan. It seems like we're going to war with them. This certainly gets to the players," he added.
"That said, I couldn't sleep after the game either as I was too happy celebrating! All of this happens when you face Pakistan."