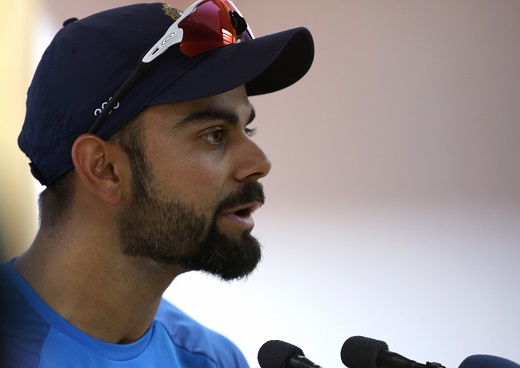 Dharamsala: Indian skipper Virat Kohli, who acknowledged Steve Smith's men as his friends before the start of the four-Test series, on Tuesday said the things have changed completely.
Many Australian players, including Smith, were involved in the verbal volleys with Indian team members on the field and as a result Kohli declared that the Australians were no longer his friends.
"No, it has changed for sure. I thought that was the case but it has changed for sure. As I said in the heat of the battle, you want to be competitive, but, yeah, I have been proven wrong," Kohli told media persons here.
"The thing I said before the first Test, I have certainly been proven wrong and you won't hear me say that ever again," he added.
Kohli, who missed the fourth and final cricket Test match due to a shoulder injury, heaped praises on his team, saying that the players showed much more character and maturity against Australia.
Kohli also pointed out that the change in players' fitness regime paid them off.
India defeated Australia by eight wickets in the fourth and final Test at the Himachal Pradesh Cricket Association (HPCA) Stadium here to clinch the four-match series 2-1 to regain the Border-Gavaskar Trophy.
Opener Lokesh Rahul hit a half-century and guided the hosts to victory along with stand-in captain Ajinkya Rahane after the early departure of Murali Vijay and Cheteshwar Pujara.
"Unbelievable. This is our best series win so far. I thought England was intense, but the way Australia gave us a fight it was amazing on their part. But our guys kept bouncing back. Shows the character and maturity," Kohli said after the match.
"Ajinkya led the team really well. The changes we made in our fitness regime have paid off. Guys have been able to sustain the performance throughout the season. In the past we have had sessions where we have given away the game easily. Not this season. Been a team season."
"Not one or two individuals who have stood out. Unbelievable, the kind of fitness and desire the fast bowlers have shown, it has been game-changing," Kohli added.
Kohli also spoke about his injury, which he got during the third Test while fielding in the first innings.
"Still a few weeks to go till I can be 100 per cent on the field. You have to take it in your stride and move forward," the Delhi batsmen said.