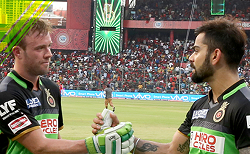 After AB de Villiers took RCB to an improbable win against Gujarat Lions on Tuesday, Virat Kohli said that it should end the debates about who the best batsman was. The RCB skipper also said he could not believe he was the winning captain after his side was staring at certain defeat at one point in the match.
Speaking in the post-match presentation after RCB entered the final of IPL 2016, Virat Kohli was all praise for the South African.
"Unbelievable, can't believe I'm the winning captain.
"That should end a lot of debates as to who is the best going around. No question about it," he said.
Talking about that crucial partnership between ABD and Iqbal Abdulla, Kohli said, "Come the big game, the big man stands up. I just bow down to him, that was probably one of the best knocks under pressure I've seen. So composed, taking Iqbal Abdulla along. He was really motivated to do it for the team. I'm really happy for him, I'm really happy for the whole team. Special credit to Iqbal as well, the way he got stuck with AB, that crucial partnership. That was wonderful composure to see from a young guy," reported ESPNcricinfo.
Royal Challengers have been on an incredible run, winning six of their final seven matches in the league stage after being in the bottom half of the league all through the first half. The Bangalore team entered the playoffs in style, finishing second after they won their virtual knockout game against the Delhi Daredevils.
"We have been playing good cricket coming into the playoffs, the guys wanted the opportunity," Kohli said. "We've been speaking of guys wanting to step up every game. The top order didn't do well. But AB, the class batsman that he is, I could see the opposition was worried about him, they wanted him out pretty badly because they know what he can do."
Speaking about the pitch, Kohli said, "It did play a bit slow in the first half of the first innings. Second half it settled nicely. I wasn't too unhappy about the few showers in between, it settled the wicket. The ball didn't turn so much, it didn't stop in the end. But high pressure game it doesn't matter, you could be playing on a cement wicket. You need composure and that's what AB de Villiers is," Kohli was reported saying by ESPNcricinfo.