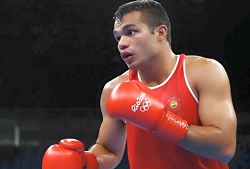 Montreux: Five-time world champion MC Mary Kom got the AIBA Legends award while former Asian Games champion Vikas Krishnan received the AIBA Pro Boxing Best Boxer trophy at the International Boxing Federation's (AIBA) 70th anniversary here on Wednesday.
Both Indian boxers were present at the ceremony along with Boxing Federation of India (BFI) President Ajay Singh.
"It's an honour for the whole country that our boxers Mary Kom and Vikas Krishnan have been awarded at this global stage of AIBA," Ajay Singh said in a statement.
"BFI congratulates AIBA on their 70th anniversary and looks forward to hosting the AIBA family in February 2017 in India for the 71st AIBA commissions meeting," he added.
Besides, the best performances and events of 2016 were recognised, with reigning Olympic men's and women's Light Flyweight (49kg) champions Hasanboy Dusmatov of Uzbekistan and Britain's Nicola Adams both winning the title of Boxer of the Year in their respective categories.
The Best Coach award went to Billy Walsh following a highly successful first full year in charge of the US team while Cuba Domadores were crowned the Best World Series of Boxing (WSB) Team.
Cuba's David Morrell's starring role at the 2016 Youth World Championships, where he won Light Heavyweight (81kg) gold, earned him the Best Youth Boxer award and hosts Saint Petersburg of Russia won the Best Youth Event. Astana, the capital of Kazakhstan, got the Best Elite Event for their hosting of the Women's World Championships in May.
Helmut Ranze won Best Supervisor for his role at the Rio 2016 Olympic Games.