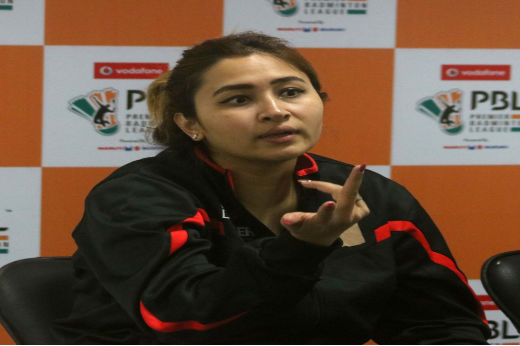 New Delhi: Indian doubles specialist Jwala Gutta on Tuesday appeared critical of the new scoring system adopted by the Premier Badminton League (PBL), saying it will only hamper the technique of the shuttlers.
Jwala, who along with Ashwini Ponappa clinched the gold in women's doubles in the 2010 Commonwealth Games, said the quality of the game will definitely go down with the new changes in format.
The ongoing second edition of the PBL underwent a change in format with the introduction of the race to 11 points, and a decisive play at 14-14 should the game get that far.
Also Read :Saina beats Ngan Yi as Awadhe Warriors defeat Bengaluru Blasters to reach PBL semis
"From a player's perspective, when you shorten the game, the technique of the player goes for a toss. Personally, I am not really up for the 11-point scoring system as the quality of badminton will surely go down." Jwala, who plays for the Delhi Acers told reporters here.
The 2016 Uber Cup bronze medallist also lamented the fact that there is no bench strength in the doubles circuit after she and Ashwini recently split. They formed a formidable pair till now.
"I am probably in the last phase of my career and till now I don't see any formidable Indian pair either in women's doubles or mixed doubles. That is what saddens me," Jwala said.
Commenting on the poor show from her franchise in the ongoing PBL, Jwala said: "It's disappointing but frankly doesn't matter a lot. It's a part of learning."
Jwala also criticised at the treatment meted out to the doubles players in the country and rued the lack of financial support from private sports management firms.
"If you compare the ratio in support which the singles players get in comparison to the doubles players, it is 100:1. Doubles players have got zero support except from the government and that's how we have been treated all throughout," she said.
"The singles players get a specialised coach each for their requirements but what about the doubles players?? Just naming a coach nine months ahead of the Olympics won't help you get medals," she further vented out.