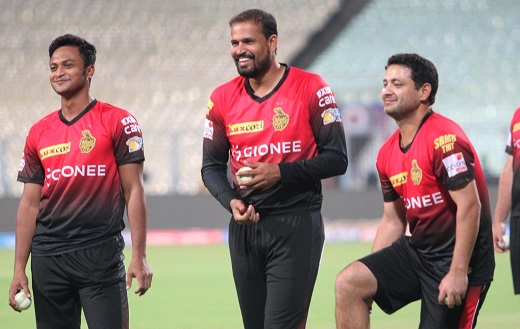 Kolkata: Despite the 22-yard Eden Gardens strip not playing to Kolkata Knight Riders (KKR) strength as it is expected to have more bounce and carry but bereft of turn, coach Jacques Kallis said the twice Indian Premier League (IPL) champions have enough variety in their arsenal to cope with any kind of condition.
KKR have always banked on their spinners to get them wickets for the last couple of seasons. But this time, the Eden track is expected to assist the pacers.
"The wicket has changed quite a bit this season. I think it's been relaid. It's a good cricket wicket. We have had a lot of warm-up games on the wicket before the tournament started. We assembled a week earlier just to make sure we get used to our home conditions which will hopefully play into our hands," Kallis told reporters on the eve of KKR's first home outing against Kings XI Punjab.
"We are fortunate enough to have spinners who can bowl on any conditions. They don't only need the conditions to succeed. We have got some mystery spinners, some wrist spinners who are tougher to read than the orthodox spinners. We feel good wicket could even help us," Kallis said.
From West Indian mystery spinner Sunil Narine to chinaman Kuldeep Yadav, leg-spinner Piyush Chawla and all-rounder Shakib Al Hasan; KKR have a mixed bag in the tweakers' department.
But unlike last few seaons where the men in purple were heavily reliant on spinners with the Eden wicket also being slow turners, this time the likes of Trent Boult and Chris Woakes would have to step up as the pitch would be more conducive to pacers.
"We are fortunate to have a lot of talents in our side where we can mix and match our bowling attack," the 41-year old former South Africa all-rounder said.
"We have different options for different wickets. Obviously the wickets are not going play the same as last season. But we will come up with ideas, the team selection that will revolve around conditions and opposition. But we will stick to our strength. It's about getting the right side for the right game."
On the catching which has let KKR down in the first two matches this season, Kallis said it's an area they pride themselves on and would like to improve.
"It's surprising. We pride ourselves in our fielding. It is an area we have been pretty good last couple of seasons. Hopefully we can that right. I think it's much of a mindset. We know that's an issue. Hopefully we can improve on that. For me, it's such an area that we really want to improve. It's something that we pride ourselves on," he pointed out.
After a resounding 10-wicket win against Gujarat Lions in their opening game, KKR threw away their next tie against Mumbai.
The hosts needed 49 runs off the last three overs and poor bowling by New Zealand's Trent Boult and Ankit Rajpoot -- who is likely to be replaced by fit-again Umesh Yadav on Thursday -- cost the Gautam Gambhir-led side the game.
"It's a little setback," Kallis said reflecting on the match.
"Probably we were in control of the game for 36 of the 40 overs. Certainly a game that we thought we lost rather than that Mumbai won. Having said that conditions got tougher for the bowlers. There was dew. It was tough. They played well in the last four overs.
"Our guys would have learnt from that. We are certainly not a team that it will mess with the rest of our season. I think we will rather learn from it than it hurting the guys too much so nice that it happened so early in the tournament so that we can learn from it than in an important game. So I think lessons will be learnt."
Kings XI come into the tie having won both of their engagements against Rising Pune Supergiant and Royal Challengers Bangalore.
"It's a good side obviously, they are a dangerous and well-balanced side. We have to be on top of our game to beat them. All sides are evenly-matched. It will boil down to the team who makes the most of the opportunity. Hope we will get back to the winning ways," Kallis said.