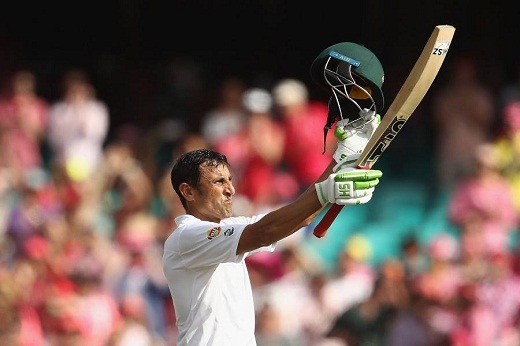 Karachi: Two days after his skipper Misbah-ul-Haq announced his retirement from international cricket, veteran Pakistan batsman Younis Khan on Saturday also decided to bring the curtains down to his glorious 17-year career after the upcoming three-Test rubber against the West Indies, starting later this month.
"People are calling me and asking me not to make any announcement to leave but now is the time," the 39-year-old Younis was quoted as saying by espncricinfo.
"A time comes in every player's life when he has to decide and I always tried my best to serve my county with my head high. No player always remains fit, the motivation never remains the same, so this is the time when Younis should leave the field after the upcoming series in West Indies."
Younis, who is just 23 runs short of becoming the first Pakistan batsman to score 10,000 Test runs revealed that he had planned his retirement in advance but continued on only to reach the landmark.
"This isn't something sudden, this was always building up and few of my close friends knew it. Although I had a plan to retire after surpassing Javed bhai's (Miandad) runs record, then I was motivated to complete 10,000 runs so I have decided to get them," he said.
"The reason I announced it before hand was people start asking me for more, they could then ask me to take 11,000 or 12,000 or I may start thinking to reach Sachin's (Tendulkar) 15,000 runs. Humans can never be satisfied but I am not in an age to make that far, so I want people to respect my decision and allow me to fulfil my future plans."
"I always tried to be a good ambassador and serve my country to take it one step forward," Younis said. "If I've ever made a mistake in my career, if I've forgotten something, or done something wrong, please think of me as one of your own and forgive me, ignore me and let's move on," he added.
After making his debut against Sri Lanka at Rawalpindi in 2000, the stylish right-hander went on to play 115 Tests, scoring 9977 runs at an average of 53.06 with 34 hundreds, the most for a Pakistan batsman.
His best Test score -- 313 against Sri Lanka in 2009 -- is the third highest for Pakistan, after Hanif Mohammad's 337 and Inzamam-ul-Haq's 329. He was recently named one of Wisden's Five Cricketers of the Year, following his contribution in Pakistan's 2-2 drawn series in England last summer.