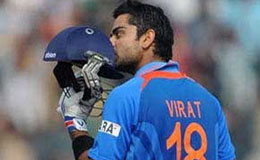 India's batting sensation Virat Kohli with 813 points retained the No.2 spot in the MRF Tyres ICC Player Rankings for ODI Batsmen, which is lead by South Africa's AB de Villiers with 887 points. Meanwhile, South Africa's Hashim Amla with 778 points is at third position.
Mitchell Marsh gained six places to reach 28th position. Marsh scored 154 runs in the series, including a 79 not out against the West Indies in a league game at the Kensington Oval in Barbados.
West Indies' Marlon Samuels has gained two places to reach 27th, stylish left-hander Darren Bravo has earned 10 places to claim 40th spot after scoring 222 runs in the tournament, including 102 against South Africa in a must-win match against South Africa, Farhaan Behardien has jumped six places to 49th spot and Kieron Pollard is now in 54th spot after moving up six places.
There is some good news for England batsmen as well. Opener Alex Hales has lifted seven places to claim a career-high 24th position, while Jason Roy has made a gain of 12 places and is now on a career-high 78th position.
Sri Lanka batsmen making upward movements after three ODIs include Angelo Mathews 20th (up by two places), Dinesh Chandimal 59th (up by 11 places) and Upul Tharanga 98th (up by five places).
In the MRF Tyres ICC Player Rankings for ODI bowlers, South Africa's Kagiso Rabada, Josh Hazlewood of Australia and West Indies captain Jason Holder have achieved career-best rankings after impressive performances in the tri-series.
Rabada has jumped six places to join seventh-ranked compatriot Dale Steyn after he finished the series with seven wickets, 25-year-old Hazlewood has vaulted eight places to 15th after he ended up as the third most successful bowler behind fourth-ranked Imran Tahir (13) and number-one ranked Sunil Narine (12) with 11 wickets, while Holder has broken into the top 20 in 20th position after rising four places.
Mitchell Marsh, who was named player of the final for his contribution of 32 runs and figures of three for 32, has gained 12 places to break into the top 50 in 50th position for the first time in his career.
After three matches in the series between England and Sri Lanka, the home side's Adil Rashid, Chris Woakes and David Willey have also achieved career-high rankings. Rashid has moved up 21 places to 30th, Woakes is in 33rd spot after rising 15 places and Willey has rocketed 17 places to claim 44th spot.
MRF Tyres ICC ODI Team Rankings (after the conclusion of the tri-series, and third ODI between England and Sri Lanka)
Batsmen (top 20)
Rank (+/-) Player Team Pts Avge HS Rating
1 ( - ) AB de Villiers SA 887 53.63 902 v NZ at Auckland 2015
2 ( - ) Virat Kohli Ind 813 51.51 886 v Ban at Fatullah 2014
3 ( - ) Hashim Amla SA 778 51.97 901 v Eng at Trent Bridge 2012
4 ( - ) Kane Williamson NZ 752 47.00 798 v SA at Centurion 2015
5 (+1) Martin Guptill NZ 751! 43.25 751 v Aus at Hamilton 2016
6 (+1) Rohit Sharma Ind 750 42.08 761 v Aus at Sydney 2016
7 (-3) T. Dilshan SL 741 39.44 802 v Sco at Hobart 2015
8 (+2) Shikhar Dhawan Ind 737 43.97 794 v SA at Melbourne 2015
9 (-1) Quinton de Kock SA 735 41.83 789 v Eng at Centurion 2016
10 (-1) Joe Root Eng 725 43.81 743 v SA at Johannesburg 2016
11 ( - ) Faf du Plessis SA 716 40.56 730 v Aus at Barbados 2016
12 ( - ) David Warner Aus 712 39.15 726 v SA at St Kitts 2016
13 ( - ) MS Dhoni Ind 706 51.25 836 v Aus at Delhi 2009
14 ( - ) Ross Taylor NZ 702 43.90 743 v Zim at Harare 2015
15 ( - ) Steve Smith Aus 694 41.15 709 v Ind at Canberra 2016
16 ( - ) Aaron Finch Aus 679 37.41 743 v Eng at Melbourne 2015
17 (+1) Jos Buttler Eng 678 36.36 706 v SA at Port Elizabeth 2016
18= (+1) Mushfiqur Rahim Ban 661 31.61 671 v Zim at Mirpur 2015
(+1) Soumya Sarkar Ban 661* 49.42 671 v SA at Chittagong 2015
20 (+2) Angelo Mathews SL 660 40.30 707 v Eng at Colombo (RPS) 2014
Bowlers (top 20)
Rank (+/-) Player Team Pts Avge Eco. HS Rating
1 ( - ) Sunil Narine WI 759 25.74 4.07 791 v SL at Jamaica 2013
2 ( - ) Trent Boult NZ 731* 22.96 4.81 745 v Aus at Auckland 2016
3 (+1) Shakib Al Hasan Ban 699 27.89 4.30 717 v Zim at Chittagong 2009
4 (-1) Imran Tahir SA 693 23.13 4.64 735 v SL at Sydney 2015
5 ( - ) Mitchell Starc Aus 681 19.79 4.82 783 v NZ at Melbourne 2015
6 ( - ) Matt Henry NZ 675*! 22.17 5.42 675 v Aus at Hamilton 2016
7= ( - ) Dale Steyn SA 645 25.93 4.86 746 v Ind at Durban 2013
(+6) Kagiso Rabada SA 645*! 21.45 4.78 645 v WI at Barbados 2016
9 (-1) Morne Morkel SA 628 24.60 4.95 717 v SL at East London 2012
10 (-1) Mohammad Irfan Pak 616 31.14 4.91 641 v UAE at Napier 2015
11 ( - ) R. Ashwin Ind 606 31.73 4.85 691 v SL at Hambantota 2012
12= (+1) Akshar Patel Ind 603*! 28.09 4.40 603 v Zim at Harare 2016
(-2) Moeen Ali Eng 603 39.66 4.96 610 v SA at Cape Town 2016
14 (-3) James Anderson Eng 597 29.22 4.92 719 v SA at The Oval 2013
15 (+8) Josh Hazlewood Aus 593*! 23.18 4.57 593 v WI at Barbados 2016
16 (-1) M. Shami Ind 580 24.89 5.54 654 v Ban at Melbourne 2015
17 (-1) M. Mortaza Ban 579 30.76 4.73 653 v Zim at Mirpur 2009
18 (+1) M. Hafeez Pak 568 34.86 4.10 769 v Ind at Kolkata 2013
19 (-2) Steven Finn Eng 567 28.96 5.09 755 v NZ at Auckland 2013
20 (+4) Jason Holder WI 565 32.70 5.58 577 v Aus at St Kitts 2016
All-rounders (top five)
Rank (+/-) Player Team Pts HS Rating
1 ( - ) Shakib Al Hasan Ban 416 453 v Zim at Chittagong 2009
2 ( - ) M. Hafeez Pak 363 438 v Ind at Kolkata 2013
3 (+1) Angelo Mathews SL 348 427 v Eng at Colombo (RPS) 2014
4 (-1) T. Dilshan SL 332 415 v Sco at Hobart 2015
5 ( - ) James Faulkner Aus 315 361 v NZ at Melbourne 2015