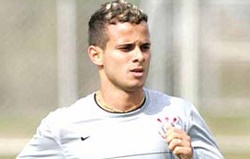 New Delhi: NorthEast United FC (NEUFC) have confirmed the signing of Brazilian midfielder Manoel Morais Amorim for the third season of the Hero Indian Super League. The 31-year-old Amorim, who plied his trade with CBR Vasco da Gama in the Brazilian Serie A during the latter part of the last decade, has also turned out for famous clubs such as Corinthians, Atlético Paranaense and Atletico Mineiro in Brazil. His form also earned him a call-up to the Brazil National team in 2006.
While playing for Corinthians, Amorim also helped them to regain promotion to the top division from Campeonato Brasileiro Serie 'B' in 2008. Defined by pace, tactical awareness and an eye for goal, Morais shall be looking to make an impact and aid NEUFC in it's bid to qualify for the playoffs this season.
NEUFC Head Coach, Sergio Farias, explained why Morais was a key signing for the Highlanders, "As I have stated earlier that I am on the lookout for players who can seamlessly fit into the philosophy that we are trying to instill at the Club. Morais is a two-footed player with experience, technical ability and a knack of scoring. I hope that he will perform well for us."
NEUFC's Director of Football, Ardeshir Jeejeebhoy also shared his thoughts on the new signing, "Sergio has been identifying the potential pieces of the proverbial jigsaw and we are lending him all our support. I am happy that we have been able to secure Morais, who Sergio felt would be an important asset this season."
Morais is the second Brazilian to join NEUFC's ranks after Mailson Alves. The Guwahati based club have already secured the services of key domestic figures like Subrata Paul, Nirmal Chettri, Rowllin Borges, Jerry, Zuala, Seityasen Singh, Halicharan Narzary and TP Rehenesh.
About NorthEast United Football Club
NorthEast United FC led by actor/ producer John Abraham, secured the North-East franchise because the region is the epicentre of footballing talent in the country. Thus on 13th April 2014, the Club, which encapsulates all eight states of the north-east, was conceived. It was a historic moment in Indian football as NorthEast United FC became the first team in the world to have a representation by region, rather than representation by city. We feel an immense amount of gratitude and responsibility towards our fans, especially in the north-east region.
The crest of NorthEast United FC was designed keeping the ethos of the club in mind. It features 8 stars at the top, representing each state of north-east India.