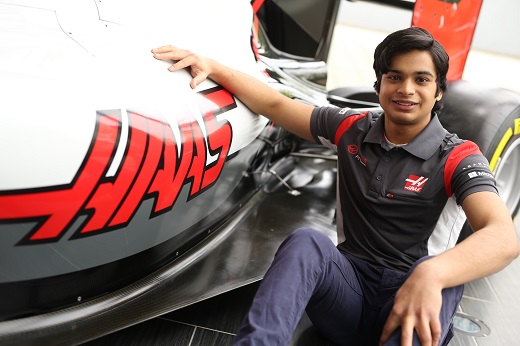 Pau: Arjun Maini turned his season around as he secured two top 10 finishes in the second and third races of Round 3 of the FIA F3 European Championship in Pau, France. These being his first points of the season proved the tenacity of the driver after a rocky start to the season with his new team, ThreeBond with T-Sport Racing.
After a gruelling three rounds of racing, Arjun was happy about securing the points finish but maintained that there was still work to be done. "Pau is a very difficult circuit as it is a stret circuit and is extremely tight with no Scope for Errors. The Cars touch a high speed of 225 kms per hour and have to go down to as low as 40 kms an hour for the hair Pin. We knew what the car was capable of and a few incidents prevented us from showing the full potential this weekend. I'm happy with two consecutive top 10 finishes and am looking to the races this weekend in Austria."

The first signs of a turnaround were apparent with his times in the two free practice sessions on Friday. Finishing 12th and 16th respectively, qualifying brought about buckets of rain that greased up the track and caused a few issues for all drivers alike, including Arjun. A good showing of pace on the street circuit by the JK Tyre supported driver saw him qualify 11th for Race 1 with a best timing of 1:22.562. Q2 saw Arjun post purple sector timings in both Sector 1 and 2 and pushing hard to seal a good spot for Race 2. Unfortunately, the greasy track saw him lock up slightly and have a light collision with the wall. This saw him crash out of qualifying after 5 minutes and eventually pushed down the order as other cars started moving past him when the track started drying up, finishing with 1:25.877. Q3 saw him placed 18th on the grid with a timing of 1:28.948.

Race 1 saw him started 7th as opposed to his original starting position of 11th after a few drivers above Arjun were served penalties and pushed down the order. A stalled start in Race 1 caused him to move down the order and finish 18th in the race. Race 2 saw him start 16th and enforce a turnaround that spoke volumes about his talent as an upcoming driver. A very interesting race that saw crucial overtaking allowed him to finish 10th and secure his first points of the 2016 season. He recorded very good pace but he was restricted by the uneven drying of the street circuit. When he was fast, there wasn't enough space for him to overtake the cars in front of him.

Race 3 saw Arjun finish a place higher than in the second race after starting 18th. He got off to a flying start and overtook three cars, just about avoiding the crash in front of him between Nick Cassidy and Sergio Settecamara that caused a pile up of cars and also brought out the safety car. When the dust settled down, Arjun had cemented his place in 9th position and cruised to the end, bringing home another points finish of the weekend.

Arjun will race at the Red Bull Ring in Austria on the weekend of 20th to 22nd May, 2016.