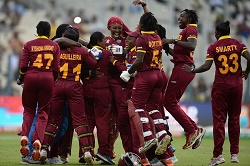 Kolkata: Plenty to celebrate for the champion West Indies women's team after it pulled off a major upset to win the ICC Women's World Twenty20 India 2016 trophy, bringing to an end to Australia's bid to win a fourth straight title.

The victorious side has improved its numbers in the MRF Tyres ICC Women's Team Rankings moving up to 104 points, just three behind fourth-ranked India.

Australia has managed to keep its top rating, and is closely followed in second place by semi-finalist England which has dropped a point and is now five behind Australia. New Zealand has also gone down a point and at 115 is 13 behind the leader in third.

There are no changes in the bottom half, as South Africa, and Pakistan, Sri Lanka Bangladesh and Ireland have retained their sixth, seventh, eighth, ninth and 10th place respectively.

The player rankings have seen some significant changes with respect to the final four sides which featured in the semi-finals and final of the ICC Women's World Twenty20 India 2016.

Australia captain Meg Lanning, who scored a half-century in the final, has kept her number-one batting ranking, while team-mate Elyse Villani, who also scored a half-century, has moved up three places to 13th.

Gains were recorded for Jess Jonassen, Danielle Wyatt and Merissa Aguilleira, each advancing a spot to 35th, 45th and 47th positions respectively.

Hayley Matthews (54th), who top scored in the final with 66, and was key in West Indies' successful run-chase against Australia, has earned a 26 place rise up the batters charts, and is now in striking distance of the top 50

The bowlers too had plenty to celebrate as the West Indies proved that women's cricket is indeed evolving into an even playing field, Anisa Mohammed, who took the crucial wicket of Meg Lanning in the final, has gained a spot to enter the top five.

Australia's Megan Schutt, with a total of seven wickets in the tournament, has stormed her way into the top 10 with an 11 place rise.

Player of the tournament Stafanie Taylor took a total of eight wickets, three of which came in the semi-final against New Zealand, and she moved up five places in the bowlers' rankings to 35th, while team-mate Shamilia Connell has also gained five places to reach 45th.

Kristen Beams of Australia, who took a total of six wickets, with one each in the semi-final and final, was another major mover, she leaped up a massive 13 places to 44th, one position below Connell.

Amongst the all-rounders, Hayley Matthews was once again the stand-out performer as she improved her ranking to 25th, a 22-place rise for her.

The top 10 has barely seen any changes as Ellyse Perry, Dane van Niekerk, Stafanie Taylor, Salma Khatun and Deandra Dottin have retained their top-five all-rounder positions.

The ICC Women's Championship kicks into action this June when Pakistan visits England for Three ODIs. This will be a chance for Charlotte Edwards and her team to try and catch up with Australia, and perhaps take over the top spot in women's cricket.
Forthcoming matches in ICC Women's Championship:
England vs Pakistan
20 June– 1stODI, Leicester
22 June– 2ndODI, Derby
27 June– 3rdODI, Derby
MRF Tyres ICC Women's Rankings (as on 4 April, after the conclusion of the ICC Women's World Twenty20 India 2016)
Rank Team Points
1. Australia 128
2. England 123
3. New Zealand 115
4. India 107
5. West Indies 104
6. South Africa 93
7. Pakistan 81
8. Sri Lanka 71
9. Bangladesh 45
10.Ireland 29
(Developed by David Kendix)
MRF Tyres ICC T20I Women's Player Rankings (as on 4 April, after the conclusion of the ICC Women's World Twenty20 India 2016)
Batting (top 10)
Rank (+/-) Player Team Pts Avge S/Rate HS Rating
1 ( - ) Meg Lanning Aus 675 32.00 117 717 v WI at Melbourne 2014
2 ( - ) Suzie Bates NZ 659 27.26 107 666 v Ire at Chandigarh 2016
3 ( - ) C Edwards Eng 656 32.97 107 812 v Pak at Taunton 2009
4 ( - ) Stafanie Taylor WI 647 36.19 104 770 v NZ at St Lucia 2010
5 ( - ) Sarah Taylor Eng 634 30.20 110 721 v Aus at Chelmsford 2013
6 ( - ) Deandra Dottin WI 610 25.04 125 649 v Eng at Bridgetown 2013
7 ( - ) Mithali Raj Ind 607 34.60 100 761 v WI at Ahmedabad 2011
8 ( - ) Bismah Maroof Pak 567 27.86 84 579 v Ban at Karachi 2015
9 ( - ) D van Niekerk SA 541 26.67 87 543 v Ire at Chennai 2016
10 ( - ) Sophie Devine NZ 540 24.61 115 560 v SL at Christchurch 2015
Selected rankings (top 50)
Rank (+/-) Player Team Pts Avge S/Rate HS Rating
13 (+3) Elyse Villani Aus 510 27.96 113 591 v Ire at Dublin 2015
14 (-1) Alex Blackwell Aus 509 21.03 93 566 v Eng at Canberra 2011
15 (-1) Lizelle Lee SA 506 23.51 94 517 v WI at Cape Town 2016
16 (-1) Ellyse Perry Aus 500 26.56 103 503 v Ire at Delhi 2016
35 (+1) Jess Jonassen Aus 385* 17.31 92 391 v Ire at Delhi 2016
36 (+1) Javeria Khan Pak 382 17.90 82 493 v Aus at Sylhet 2014
37 (-4) Jessica Cameron Aus 381 20.91 108 610 v Eng at Colombo (RPS) 2012
44 ( - ) S Campbelle WI 319 12.34 80 362 v Aus at Sydney 2014
45= (+1) Danielle Wyatt Eng 304 12.28 104 355 v WI at Bridgetown 2013
( - ) Katie Perkins NZ 304* 18.00 98 323 v SL at Christchurch 2015
47 (+1) M Aguilleira WI 301 13.38 78 377 v SL at Colombo
Bowlers (top 10)
Rank (+/-) Player Team Pts Avge Eco. HS Rating Ranking
1 ( - ) Anya Shrubsole Eng 671 12.79 5.45 680 v WI at Dharamsala 2016
2 ( - ) Morna Nielsen NZ 661! 18.19 4.81 661 v WI at Mumbai 2016
3 (+1) Anam Amin Pak 614 17.85 4.89 645 v Ban at Delhi 2016
4 (-1) Ellyse Perry Aus 611 19.80 5.74 686 v NZ at Nelson 2010
5 (+1) A Mohammed WI 604 15.32 5.29 673 v Ind at Ahmedabad 2011
6 (-1) Danielle Hazell Eng 592 19.23 5.21 685 v NZ at Chelmsford 2011
7 ( - ) Shabnim Ismail SA 590 19.65 5.70 618 v Aus at Nagpur 2016
8 (+11) Megan Schutt Aus 587 19.04 6.10 599 v Eng at Delhi 2016
9 (-1) Leigh Kasperek NZ 577* 8.16 4.48 578 v SA at Bangalore 2016
10 ( - ) Poonam Yadav Ind 562* 12.39 5.33 571 v Pak at Delhi 2016
Selected rankings (top 50)
Rank (+/-) Player Team Pts Avge Eco. HS Rating Ranking
35= (+5) Stafanie Taylor WI 457 16.10 5.41 633 v SL at Port-of-Spain 2012
(+1) Jahanara Alam Ban 457 25.42 5.46 495 v Pak at Karachi 2015
37 ( - ) Jenny Gunn Eng 456 19.52 6.24 470 v SA at Edgbaston 2014
38 (+3) Sophie Devine NZ 454 15.66 5.79 629 v Eng at Hove 2010
39 ( - ) Rumana Ahmed Ban 442 31.00 5.69 462 v Ire at Bangkok 2015
40 (-5) Sarah Coyte Aus 441 20.82 6.10 657 v Ind at Visakhapatnam 2012
41 (-4) Tremayne Smartt WI 431 19.10 5.43 561 v NZ at Invercargill 2014
42= ( - ) Deandra Dottin WI 416! 19.00 6.03 416 v Aus at Kolkata 2016
(+1) Hayley Matthews WI 416* 15.52 5.40 437 v Ban at Chennai 2016
44 (+13) Kristen Beams Aus 414*! 19.92 5.51 414 v WI at Kolkata 2016
45= (-1) R Gayakwad Ind 410* 19.53 6.25 418 v Eng at Dharamsala 2016
(+5) Shamilia Connell WI 410*! 35.00 5.56 410 v Aus at Kolkata 2016
All-rounders (top 10)
Rank (+/-) Player Team Pts Highest Ranking
1 ( - ) Ellyse Perry Aus 306 319 v NZ at New Plymouth 2016
2 ( - ) D van Niekerk SA 298 304 v Ire at Chennai 2016
3 ( - ) Stafanie Taylor WI 296 422 v SL at Bridgetown 2012
4 ( - ) Salma Khatun Ban 260*/ 292 v Ire at Sylhet 2014
5 ( - ) Deandra Dottin WI 254! 254 v Aus at Kolkata 2016
6 (+1) Sophie Devine NZ 245 304 v Eng at Hove 2010
7= (+1) Isobel Joyce Ire 235 291 v Aus at Sylhet 2014
(-1) Suzie Bates NZ 235 274 v Aus at Taunton 2011
9 ( - ) Bismah Maroof Pak 229 248 v Ire at Doha 2014
10 ( - ) Jess Jonassen Aus 212*/ 224 v Ire at Delhi 2016