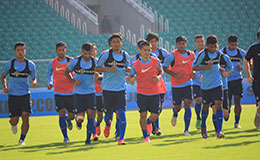 THIRUVANANTHAPURAM (TRIVANDRUM): "Look at his face. He looks a schoolboy," uttered Sunil Chhetri pointing to Lallrinzuala. "He reminds me of Bhaichung-bhai when he first came in," Chhetri adds. Zuala, just 18, smiles.
"Who's your idol – Jerry Zirsanga or Mama (Shylo Malsawmtulanga)?" Chhetri carries on the conversation.
"Yourself," Zuala points his finger at Chhetri. This time Chhetri seems a bit embarrassed; but quips back: "Who are your other favourite Players?"
"Lalrindika Ralte," Zuala informs. The conversation thereafter revolves around Football in Mizoram and the quality Football which Mama has played over the years.
At the practice session, another Mizo – the irrepressible Jeje Lalpekhlua is the first one to hit the ground. The others follow. Pritam Kotal, Narayan Das, Rowlin Borges, Pronay Halder, Holicharan Narzary, Gurpreet Singh Sandhu, Kaushik Sarkar, Thongkhosiem Haokip, Sumit Passi are all below 23. When did India last have it for a Senior Team? Ever?
Post morning practice, the journalists gather around the national coach. "When I took over I had to make a choice -- either to continue with the tried and tested whose average age was around 30, or to rebuild the squad. I opted for the second despite being aware that it won't deliver you immediate results," Constantine waves his hand.
"We have lost Sandesh (Jhingan who's also an U-23 Player), Lobo (Cavin) and Seityasen Singh. Anas pulled a hamstring and we had to release him too. Besides, there are a number of guys whom we need to be careful with," Constantine states.
"I could have easily played Jhingan and Lobo. They could have played in this tournament and their presence would have certainly strengthened my squad. But if I played them here they would have missed the next six months," this time Constantine shakes his head.
In the footballing world, the true definition of a coach stays in protecting his Players and not exploiting them for short term results, any sensible one will reiterate umpteenth times.
After the initial silence, someone queried: "What's your opinion about Sri Lanka?"
"They play a defensive formation and will hit us on the counter attacks. They have some decent Players and work extremely hard.
There are no easy games for us -- in fact, against anybody. I expect Sri Lanka to give everything they have. We have to be patient and see what happens," the coach uttered in one breath.
Even as the boys worked on the set plays, the tireless goalkeeping coach Rogerio Ramos, who it seems can stay on the field for more than 24 hours worked ruthlessly with his keepers. The best part stays that his Keepers wait for his ruthlessness. They know, it makes them better – they die for it.
Referring to a question whether Subrata (Paul) can push Gurpreet (Singh Sandhu and retain his position under the citadel, Constantine hits back hard. "If Subrata didn't have a chance he won't have been here. I have never had any attachment for Players of what they have done in the past," he states sternly.
"It's all about NOW," this time his voice echoes in the large room. Everyone needs to be the type of Player which suits the National Team."
The Sun by 9am is quite scorching despite it being December. Even as a cold shower stays the best thing after the session at around 35 degrees, the Players go and sit out in the ice bath.
Forget the snow and the Reindeers but nevertheless the heat doesn't stop the smiles of the innumerable Santa Clauses smiling from over a hundred hoardings all over in the City. All of a sudden you remember the cakes, the wines and the turkeys and start pitying the Players. They still shiver in the cold ice bath.
Merry Christmas!
The kick-off against Sri Lanka on Christmas Day is at 6.30pm and the match would be telecast live on Star Sports.
By Nilanjan Datta,
AIFF Media Team