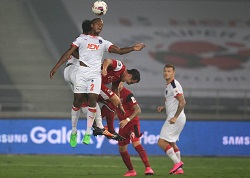 New Delhi: Delhi Dynamos FC held NorthEast United FC to 1-1 draw in the Indian Super League (ISL) match at Jawaharlal Nehru Stadium in New Delhi on Tuesday. Richard Gatze (Delhi Dynamos FC) opened the score line for the host from a through ball by Malouda in the 37th minute. In the 72nd minute, Simao scored an excellent equaliser for the NorthEast United from free-kick. Just before the free-kick, Simao came on the field on for Silas. After this draw, Delhi Dynamos and NorthEast United remained 2nd and 7th position in the point table.
Hits and flops from the match:

HITS

John Arne Riise (Delhi Dynamos FC):- Riise was outstanding in this match. The central defender was rock solid at the back and acted as a pillar in the defence. He also gave a good support to the forwards. He was busy on the field till the end. His tireless efforts made him the "Hero of the Match".
Simao (NorthEast United FC):- He came on the field in the 72nd minute, took the free-kick and scored the equaliser with his shot. There was no chance for anybody to stop that kick. After he came on the field, he gave a boost to his team and made a solid impact in the match.

FLOPS

Robin Singh (Delhi Dynamos FC):-Robin Singh failed to impress in this match. He committed some unnecessary errors and made some rash tackles in the game. He was also booked for his handball. The forward could hardly make an impact in the opponent's box.

Carlos Javier Lopez (NorthEast United FC):- Lopez's unnecessary fouls gave away some easy free-kicks to the opponent team, which could have proved costly for his team. He was also booked for his poor tackle. He needs to makes changes in his game and tactics if he is to make an impact for NorthEast United.